Curfews for female students should be replaced with other measures: minister
Universities should move toward abolishing dormitory curfews by implementing diversified management rules, Minister of Education Pan Wen-chung (潘文忠) said yesterday.
Pan made the remarks during a question-and-answer session at a meeting of the legislature's Culture and Education Committee, where several lawmakers asked questions about the controversy surrounding a student-led protest against a curfew that Fu Jen Catholic University imposed on female students living in dormitories.
The education minister initially refrained from giving a direct response when Democratic Progressive Party (DPP) Legislator Su Chiao-hui (蘇巧慧) asked his opinion on imposing curfews on female students, saying that universities have jurisdiction over the issue.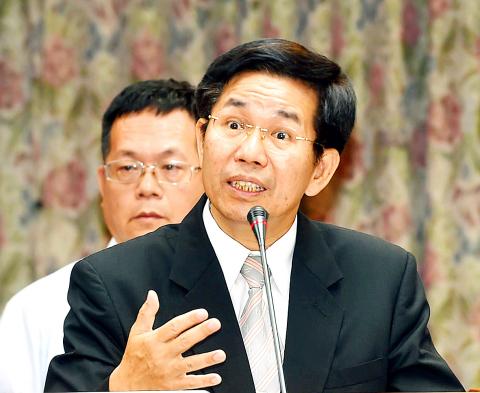 Minister of Education Pan Wen-chung speaks during a question-and-answer session at a meeting of the Education and Culture Committee at the legislature in Taipei yesterday.
Photo: Fang Pin-chao, Taipei Times
DPP Legislator Rosalia Wu (吳思瑤) asked Pan to clarify his stance on the issue.
"Are such unreasonable access controls protecting female students, or are they putting them in greater danger?" Wu asked.
Pan said that the students are advocating total abolition of dormitory curfews, but that he thinks alternative management rules should be put in place before curfews are lifted.
When asked by DPP Legislator Hsu Chih-chieh (許智傑) how he would respond to students if he were the dean of Fu Jen, Pan said that he would probably issue identification cards to female students, granting them unlimited access to their dormitories via a card reader, provided that the time at which the students leave and return to their dormitories is recorded and forwarded to their parents.
Hsu showed a petition calling for the abolition of dormitory curfews at universities handed out by FJU Cinderella, a group formed by students opposed to the curfew, and asked Pan if he would sign it.
Pan said that he would if the language used in the petition were changed to: "I support abolishing dormitory curfews if accompanying measures are in place."
In related news, Pan said that the ministry would form a new curriculum review committee comprising students, officials and experts within two months in accordance with a recently passed amendment to the Senior High School Education Act (高級中等教育法).
The new committee would be in charge of reviewing curriculum guidelines being drafted for a 12-year national education system, which are set to take effect in 2018.
Pan said that six draft proposals for the so-called "examination-enrollment corelative system" to be used in the 12-year national education system were discussed yesterday at a meeting of the Board of College Recruitment Commission, but that no conclusions had been reached.
The new testing system would come into effect in 2021, he said.
Comments will be moderated. Keep comments relevant to the article. Remarks containing abusive and obscene language, personal attacks of any kind or promotion will be removed and the user banned. Final decision will be at the discretion of the Taipei Times.