Taiwan Shipbuilding calls for unity on goal
Taiwan's largest shipbuilding company called on the nation's three major shipbuilders to set aside their differences and band together to achieve the goal set by the administration of President Tsai Ing-wen (蔡英文) of building submarines.
The Tsai administration has highlighted domestically produced submarines and training aircraft as staples of its national defense policies, with the stated goal of operating a self-built submarine by 2025.
Taiwan Shipbuilding Corp chairman Lai Sun-quae (賴杉桂) said completing such an objective would be a difficult and complex process that would require every ounce of expertise Taiwan has to offer, as well as some foreign support.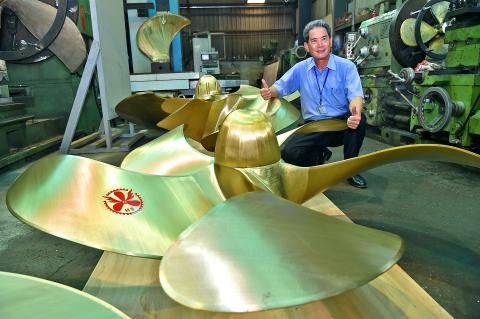 Hung Shen Propeller Co president Cheng Cheng-i displays some of the firm's propellers at its factory in Pingtung County's Sinyuan Township on Thursday.
Photo: Chang Chung-i, Taipei Times
Despite being competitors and having some bad blood between them, the nation's shipbuilders should put aside their differences, as indigenous submarines are a national goal, Lai said.
The Taiwan Shipbuilding Industry Association on Friday hosted an event for companies to display the fruits of their research, with Taiwan Shipbuilding, Jong Shyn Shipbuilding and Ching Fu Shipbuilding providing demonstrations.
Taiwan Shipbuilding displayed sections of its own prototype submarine, including the torpedo room and the front end, and announced where it would base its manufacturing operations for the project should it be awarded the contract.
The company said the details of the submarine's construction would not be publicized for fear of compromising confidential information.
Ching Fu said it would display a finished prototype for a submarine control system capable of integrating 90 other systems at the Kaohsiung International Maritime and Defense Expo in September.
China Steel Corp said it plans to replace HY-80 steel with a new type known as HSLA-80, which is to be examined by the Ship and Ocean Industries Research and Development Center in the second half of this year.
China Steel added that it would use HSLA-80 in military ships currently under construction on a trial basis.
Meanwhile, the Ministry of National Defense said it would divide the indigenous submarine project into contractual design and construction, which companies would bid on.
However, Taiwan Shipbuilding, the firm most likely to be awarded the project, suggested that the contract be awarded as one project to avoid mistakes and cut down on the ministry's expenses, sources said.
By awarding the contract to one company, that firm would be able to manage and cooperate with other companies, foreign or domestic, Lai said, adding that, contrary to popular belief, lump sum projects do not cause the company that wins the bid to monopolize resources.
Comments will be moderated. Keep comments relevant to the article. Remarks containing abusive and obscene language, personal attacks of any kind or promotion will be removed and the user banned. Final decision will be at the discretion of the Taipei Times.