Lawmakers clash over draft assets bill
POWER PLAY? KMT deputy caucus whip Lin Te-fu said that the proposal would give powers which would normally be reserved for courts and prosecutors to a committee
Legislators clashed over the wording of draft legislation targeting illicit party assets yesterday, as the legislature's Internal Administration Committee began its line-by-line review of the proposal.
The joint review session with the Finance Committee and the Judiciary and Organic Laws and Statues Committee failed to reach a consensus on any of the draft act's articles, with Chinese Nationalist Party (KMT) legislators objecting to wording proposed by Democratic Progressive Party (DPP) and New Power Party (NPP) lawmakers on grounds that it would contravene legal precedent and unfairly target their party.
"Any law passed should be universally applicable, rather than just targeted at one party," KMT Legislator Alicia Wang (王育敏) said, adding that many parties had "disappeared" from the legislation's scope because of language applying it only to parties established before the end of the Martial Law era.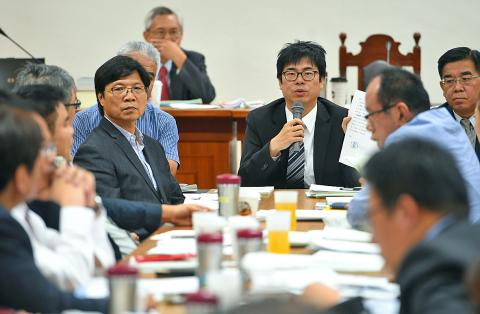 Democratic Progressive Party Legislator Chen Chi-mai, center, speaks at a joint session of the legislature's Internal Administration Committee, Finance Committee and Judiciary and Organic Laws and Statutes Committee at the legislature in Taipei yesterday.
Photo: Chang Chia-ming, Taipei Times
"Should you pass a law that can be used for all parties well into the future — or are we just chasing after the assets of one particular party in one short space of time," she said, while questioning provisions that would retroactively apply on asset acquisitions.
Asset regulations proposed by the KMT would forbid parties from making direct investments or owning most kinds of real estate, while not including any punitive measures against "illicit" assets, instead requiring parties to put assets into a trust within two years.
"We would like to see more neutral wording," KMT Legislator William Tseng (曾銘宗) said, objecting to the use of "illicit" in the titles of competing bills on grounds that only his party would be targeted.
Language on the law's purpose should emphasize guaranteeing a fair environment for political competition — not transitional justice — to avoid unfairly targeting the KMT, he said.
KMT deputy caucus whip Lin Te-fu (林德福) described as "limitless" the powers that would be granted by the legislation to an investigative committee to be established by the Executive Yuan, adding that the body would gain power normally reserved for courts, public prosecutors and the Control Yuan.
DPP caucus secretary-general Wu Ping-jui (吳秉叡) said the focus on "illicit" assets was warranted because of the nation's past, denying any targeting of the KMT.
"We are targeting illicit assets because those are the assets that have to be addressed, but there is no assumption that any particular assets are illicit prior to the results of investigation, so there is no need for any party to take it personally," he said, adding that the proposal's purpose to further "transitional justice" did not contain any sense of "hunting down" any particular party.
Limiting the scope of legislation to parties established during the Martial Law period was reasonable, because the "illicit assets" targeted were those acquired through the abuse of authoritarian state power, Wu said, adding that KMT proposals also contained provisions that would be applied retroactively.
NPP Legislator Huang Kuo-chang (黃國昌) said that a commission established by the legislation — if it were to be enacted — would only have powers to conduct a normal "executive investigation," the results of which would be subject to appeal in court.
Because KMT opposition precluded consensus, all articles discussed were put aside temporarily by the joint committee for later discussion and a possible vote.
Line-by-line review began only after extended parliamentary maneuvering that saw KMT committee members demand that the review be placed on hold until Minister of the Interior Yeh Jiunn-rong (葉俊榮) could attend.
Yeh arrived shortly before noon.
"Now that you have full control, you have to take full responsibility," said Lin, criticizing the DPP for failing to propose an Executive Yuan or official party version of the asset legislation.
"You can try to put the legislation on hold, but you will not succeed," DPP caucus whip Ker Chien-ming (柯建銘) said. "It would be better to face the issue bravely."
While the DPP caucus would propose an official party version of draft legislation, it would only have minor wording differences from proposals by individual caucus members, Ker said.
DPP Legislator Lee Chun-yi (李俊俋) said the KMT was "crying wolf," because it had previously blocked asset legislation numerous times while it had a legislative majority, including official DPP versions and legislation submitted by the Executive Yuan under the administration of former president Chen Shui-bian (陳水扁).
Comments will be moderated. Keep comments relevant to the article. Remarks containing abusive and obscene language, personal attacks of any kind or promotion will be removed and the user banned. Final decision will be at the discretion of the Taipei Times.