MOFA pushes 'head of state diplomacy'
ENHANCING TIES: The policy, first adopted by former president Lee Teng-hui, is an effective tool that allows heads of state to exchange opinions face-to-face, MOFA said
The Ministry of Foreign Affairs (MOFA) plans to push "head of state diplomacy" as its central policy, Minister of Foreign Affairs David Lee (李大維) said yesterday, while confirming that the ministry is in the midst of planning for President Tsai Ing-wen's (蔡英文) visit to two diplomatic allies in Latin America and the Caribbean next month.
The ministry plans to promote cooperation between Taiwan and its diplomatic allies, and push for increased exchanges between heads of state, the effects of which can be seen in the number of foreign leaders and high-level officials who attended Tsai's inauguration ceremony, the ministry said in a report presented to the legislature's Foreign Affairs and National Defense Committee yesterday.
The ministry will advise the president to visit each of the nation's diplomatic allies at an opportune time, the report said.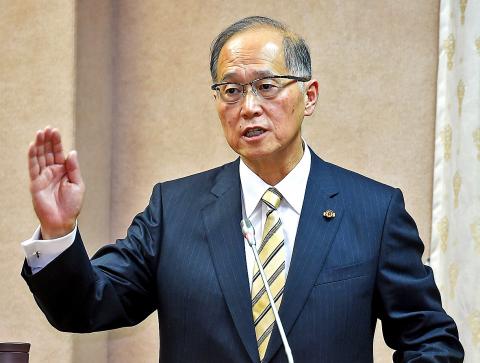 Minister of Foreign Affairs David Lee yesterday takes part in a question-and-answer session at a meeting of the Foreign and National Defense Committee at the legislature in Taipei.
Photo: Chu Pei-hsiung, Taipei Times
"The head of state diplomacy approach began under former president Lee Teng-hui's (李登輝) administration. It is an effective tool because it allows the leaders of two countries to exchange opinions face-to-face," Lee told reporters before the legislative meeting.
During the meeting, New Power Party Legislator Hsu Yung-ming (徐永明) asked Lee about the ministry's plans and strategy, and whether Tsai is to make a state visit next month.
"The new government is planning to attend the inauguration of the expanded Panama Canal, which will be followed by a visit to Paraguay," Lee said.
However, as many details are still unsettled, including consent from Washington for Tsai to make transit stops in the US, the ministry has yet to make an official announcement, he said.
Separately, Representative to the US Shen Lyu-shun (沈呂巡) yesterday issued a statement refuting reports that he is reluctant to leave his post and had sought to impede the appointment process of his successor.
"I am absolutely not clinging to my post. I submitted my resignation in the middle of last month. Moreover, to accommodate my successor's need to report for duty earlier, I chose not to uphold the customary practice wherein outgoing envoys are given a preparatory period of one to two-and-a-half months after a transfer of power, and instead plan to leave office in mid-June," Shen said.
Shen also dismissed reports that the Taipei Economic and Cultural Representative Office (TECRO) in the US had deliberately delayed delivery of documents concerning the appointment of his successor, outgoing Representative to Italy Stanley Kao (高碩泰).
Kao was officially appointed by Tsai as the new envoy to Washington late on Monday, amid criticism from pan-blue politicians that Tsai's "swift approval" of Shen's resignation was disrespectful.
According to TECRO, Shen tendered his resignation on April 15, but Ma did not sign it before he left office on Friday.
Shen said TECRO received an order in the middle of last month to draw up paperwork to request Washington's consent to Kao's appointment, which it completed on that very day and forwarded to the ministry for authorization.
"After failing to receive a response from the ministry for some time, we again asked it to expedite the process earlier this month, but still see no results," Shen said.
Blasting allegations that he had also held off on referring the US' consent letter to the ministry as a "further derailment from truth," Shen said that TECRO never handled the letter.
Comments will be moderated. Keep comments relevant to the article. Remarks containing abusive and obscene language, personal attacks of any kind or promotion will be removed and the user banned. Final decision will be at the discretion of the Taipei Times.