Battery fire grounds V Air plane
SPONTANEOUS: The fire was caused by a lithium battery power pack, the Civil Aeronautics Administration said, in the first such case involving a Taiwanese air carrier
A fire broke out in the cabin of a V Air passenger liner bound for Japan on Friday night after a portable battery in a passenger's carry-on luggage spontaneously caught fire in the first incident of its kind affecting a Taiwanese air carrier, the Aviation Safety Council (ASC) said yesterday.
"This was the first incident of a mobile device power source triggering a fire on a domestic airliner in flight," council executive director Thomas Wang (王興中) said.
He said that between 1991 and last year there have been more than 170 incidents involving lithium battery explosions on commercial aircraft worldwide, but this was the first case involving a Taiwanese air carrier.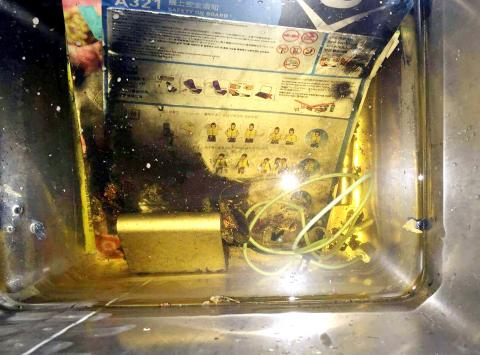 A portable battery that self-ignited on a V Air flight from Taiwan Taoyuan International Airport to Haneda Airport in Japan sits in a metallic garbage can yesterday after the fire was put out by crewmembers.
Photo: Copy by Chu Pei-hsiung, Taipei Times
"The council plans to investigate the case," he said.
The device in question was a lithium battery made in China, the Civil Aeronautics Administration said, adding that it was not immediately clear what type of electronic device it was used to power.
Wang said that the battery did not catch fire because it was on an aircraft in flight, and it would have caught fire even if it had not been brought onto the plane.
There have been discussions on whether mobile power sources should be allowed on airplanes, he said, but cell phones also have lithium batteries and "the possibility of banning them is not high."
Current practice among the world's airlines is that mobile power sources — as long as they are kept in carry-on luggage — can be brought aboard aircraft, he said.
Flight ZV252 took off from Taiwan Taoyuan International Airport for Haneda Airport at 10:26pm on Friday.
The fire was put out shortly after it began, and the battery was placed in a bucket of water to ensure that it would not reignite.
All the aircraft's 161 passengers and crew members were unharmed in the incident.
Due to safety concerns, the captain flew the aircraft back to Taoyuan airport.
The aircraft arrived at the airport at 11:21pm and was confirmed not to have been damaged. The budget air carrier, in consideration of the lingering smell of smoke, arranged for the passengers to take another flight, which left at 12:30am yesterday.
The airline said that the council had confirmed the safety of the aircraft before it was put back into service yesterday.
When the crew members return to Taiwan, they will be questioned so that officials can learn more about the fire, the council said.
Comments will be moderated. Keep comments relevant to the article. Remarks containing abusive and obscene language, personal attacks of any kind or promotion will be removed and the user banned. Final decision will be at the discretion of the Taipei Times.