Police arrest man wearing dinosaur costume in drill
A man was arrested on Friday for walking down the street in a dinosaur costume during Thursday's air defense exercise in Kaohsiung.
Police arrested the man, identified only by his surname, Kao (高), after images of what appeared to be a small dinosaur roaming the streets of Kaohsiung were posted on a Web site known for its exposes.
Authorities traced the man to the store where he worked using surveillance cameras installed at intersections.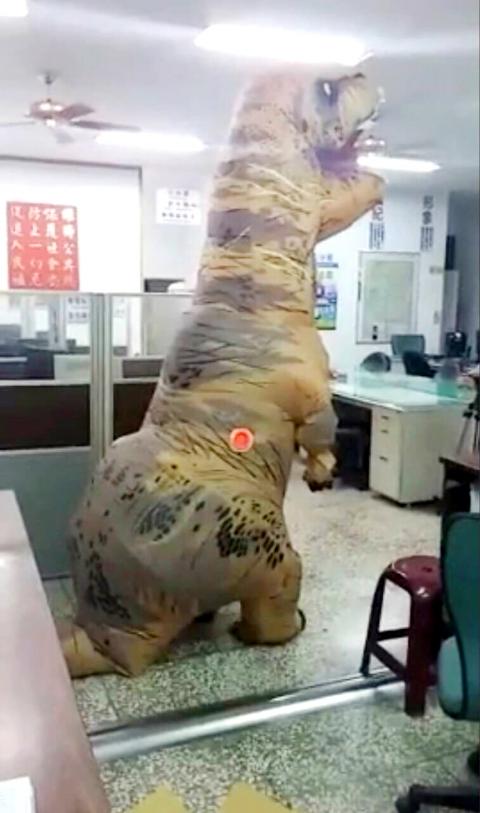 A dinosaur costume that was worn by a man who walked the streets of Kaohsiung during an air drill on Thursday sits at a Kaohsiung police station on Friday.
Photo: Huang Liang-chieh, Taipei Times
The Gushan Precinct Police Department said Kao walked down Ming-cheng 3rd Road in a dinosaur costume during a traffic ban imposed in the city and other parts of southern Taiwan for the annual Wanan air defense exercise.
The exercise has been taking place since last month in different parts of the nation.
All vehicles were required to pull over and people were required to remain indoors during the 30-minute traffic ban.
Flights, trains and mass rapid transit systems operated normally, but passengers who finished their journey were required to stay inside airports or stations until the ban is lifted.
On the same day, a series of exercises designed to help emergency personnel respond to disasters, such as fire, evacuations and emergency medical treatments, were carried out.
Kao's case was forwarded to the city's Military Service Bureau for prosecution under the Civil Defense Act (民防法), police said.
According to the Act, Kao could face a fine of between NT$30,000 and NT$150,000 for not abiding by restrictions imposed during an air defense exercise.
Police said Kao told officers he thought it would be fun to walk around deserted streets dressed as a dinosaur, but did not know it was against the law.
"He thought he would probably get a traffic ticket at worst, but he got a little nervous when we told him the seriousness of his offense," one police officer said.
Comments will be moderated. Keep comments relevant to the article. Remarks containing abusive and obscene language, personal attacks of any kind or promotion will be removed and the user banned. Final decision will be at the discretion of the Taipei Times.