Telecoms Fraud: NPP touts extending jurisdiction over crimes overseas
The New Power Party (NPP) caucus yesterday proposed amendments to the Criminal Code to extend the government's jurisdiction over criminal offenses committed abroad amid alleged international telephone fraud involving Taiwanese overseas, while the party urged China to share evidence to facilitate a joint criminal investigation.
The party plans to revise Article 7 of the Criminal Code, which stipulates that the code applies where Taiwanese commit an offense abroad that is punishable by more than three years in prison.
The party proposed to drop the three-year minimum prison term as a requisite for the code's application.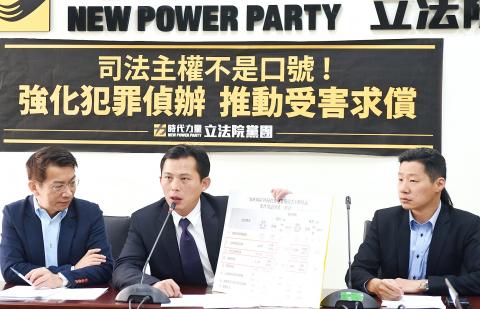 From left, New Power Party legislators Hsu Yung-ming, Huang Kuo-chang and Freddy Lim hold a news conference in Taipei yesterday, calling for amendments to the Criminal Code to extend the government's jurisdiction over criminal offenses committed abroad.
Photo: Chien Jung-fong, Taipei Times
"The revision will no longer limit the application of the Criminal Code to serious offenses, but the code would apply where an offense committed abroad is punishable by local laws. That would provide legal grounds for Taiwan to request extradition or international judicial cooperation in cases involving Taiwanese, regardless of the severity of offense," NPP Legislator Hsu Yung-ming (徐永明) said. "Criminal investigations can be improved only if judicial jurisdiction can be maintained. Only by doing this can we crack down on telephone fraud rings."
Forty-five Taiwanese were last week deported from Kenya to China for suspected involvement in telephone fraud, which has sparked debate about Taiwan's jurisdiction in international criminal cases, while a delegation from the government is to depart for China today to negotiate with Chinese authorities.
NPP Legislator Huang Kuo-chang (黃國昌) said China has not acted consistently according to the Cross-Strait Joint Crime-Fighting and Judicial Mutual Assistance Agreement (海峽兩岸共同打擊犯罪及司法互助協議), which stipulates that suspects and evidence of a criminal case involving both nations should be handed over to the nation that prosecutes the case.
China only processed 1,357 of the 4,061 requests from Taiwan to demand information about criminal cases from 2009 to this year, while Taiwan processed 1,090 of the 1,346 Chinese requests, Huang said.
In terms of facilitating criminal investigation and evidence collection, China granted 61 percent of Taiwan's requests, while Taiwan granted 92 percent of China's requests, he said.
"China is suppressing Taiwan's judicial sovereignty by not fulfilling the agreement. The delegation must make sure it asks China performs its obligation and delivers evidence along with suspects," Huang said.
The party also plans to review all laws to establish a mechanism to help people affected by fraud seek compensation, which should include the confiscation of illegal assets and the participation of victims in prosecution and legal proceedings.
Comments will be moderated. Keep comments relevant to the article. Remarks containing abusive and obscene language, personal attacks of any kind or promotion will be removed and the user banned. Final decision will be at the discretion of the Taipei Times.