Nanotechnology might provide vinyl records second life
While vinyl records were superseded by compact discs about two decades ago in terms of sales, a recent technological breakthrough in the production of vinyl records might lead to a resurgence in their popularity, especially for audiophiles.
The Taiwan branch of Japanese company Ulvac unveiled samples of its vinyl records — coated in nano-scale molybdenum — at the Hi-End Audio Show in Kaohsiung that opened on Thursday and is to run through today, with more than 200 international brands displaying products at its 80 stalls.
Ulvac demonstrated the technology's ability to fix common problems that plague vinyl records, such as scratching, poor heat conductivity and susceptibility to static electricity.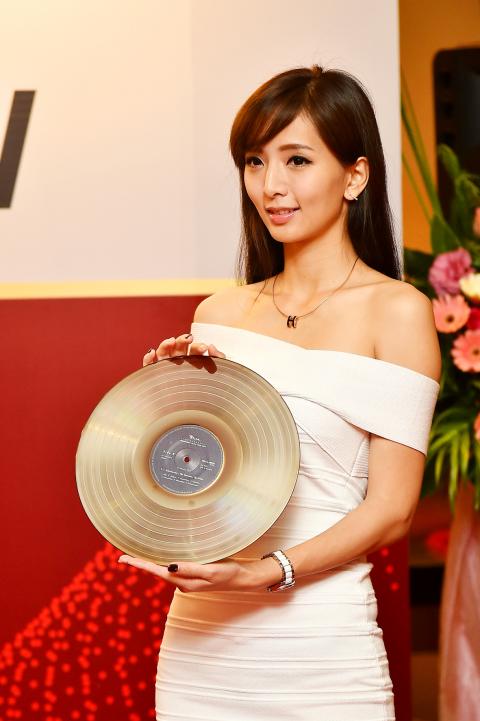 A model holds up a vinyl record at the 2016 Hi-End Audio Show at the Ambassador Hotel in Kaohsiung on Thursday.
Photo: Chang Chung-yi, Taipei Times
According to Kaohsiung Electrical Appliances Association general-director Tsai Chih-liang (蔡志亮), the traditional method of producing LPs has seen no changes since the 1940s and the accompanying problems have never been addressed.
Tsai said that new technology — commonly employed in the semiconductor industry — can be used to protect vinyl records from mold and static charges caused by handling.
Ulvac staff said that the coating helps harden the polyvinyl chloride (PVC) material that records are made of and prevents it from being easily damaged, adding that the coating also allows for more refined sound quality.
Local media reported that the coating was developed by Ulvac Taiwan vice chief executive officer Clare Wei (魏雲祥), who started listening to vinyl records last year.
After discovering the problems associated with the PVC used in the production of records, Wei spent more than NT$150 million (US$4.64 million) on laboratories, equipment and personnel to try to apply the nano-scale coating material on vinyl, the Chinese-language United Daily News reported.
The technology has since received patent rights in Taiwan, the US, Japan and China and the company is planning to participate in this year's Japanese Good Design Award competition, it added.
Comments will be moderated. Keep comments relevant to the article. Remarks containing abusive and obscene language, personal attacks of any kind or promotion will be removed and the user banned. Final decision will be at the discretion of the Taipei Times.