China to prosecute in fraud case despite acquittals
The Chinese government on Wednesday announced that a group of Taiwanese who were deported to China from Kenya would be prosecuted on charges of telecoms fraud, despite having been acquitted of the same charges by a Kenyan court this month.
The move escalated a diplomatic battle that has outraged officials who see the deportation of Taiwanese to China as an extra judicial abduction.
The case has also raised international legal questions and involved Kenya in the geopolitical maneuvering between Taiwan and China.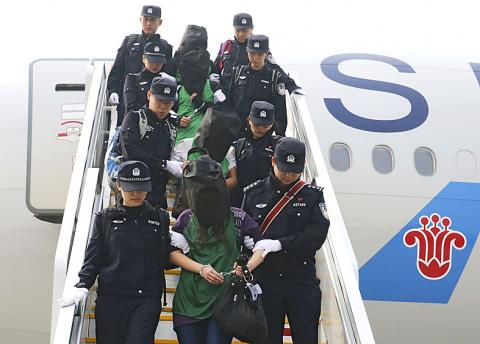 In this photo released by Xinhua News Agency, Chinese suspects involved in wire fraud are escorted off a plane upon arriving at the Beijing Capital International Airport in Beijing on Wednesday. The deportation of nearly four dozen Taiwanese that`s part of a larger group including mainland Chinese from Kenya to China where they are being investigated over wire fraud allegations is focusing new attention on Beijingis willingness to assert its sovereignty claim over Taiwan.
Photo: AP
The Taiwanese arrived in Beijing on Wednesday, hooded and handcuffed, after being forced onto a plane by Kenyan police.
Taiwanese lawmakers have accused the Kenyan government of violating international law and its own laws to placate China.
They said that the Taiwanese had been cleared of charges of involvement in a large telecommunications fraud ring based in Kenya.
The deportations underscored the limited leverage of Taiwan's government. Even though China and Kenya do not have an extradition treaty, Kenya has no diplomatic relations with Taiwan.
As outrage mounted in Taiwan over what officials called an "uncivilized act of extra judicial abduction," the Chinese Ministry of Public Security on Wednesday released a statement saying that 32 Chinese and 45 Taiwanese, including 10 in China, "had been falsely presenting themselves as law enforcement officers to extort money from people on the Chinese mainland through telephone calls," according to Xinhua news agency.
It said that the syndicate was based in Nairobi, Kenya's capital, and that it had cheated Chinese in nine provinces out of millions of yuan.
Some victims committed suicide because of the huge financial losses, the Xinhua report said.
The Chinese ministry defended the deportations by claiming that some suspects in previous telecom fraud cases had been freed in Taiwan after their repatriation.
"Because of the separate handling of these cases, many suspects of cybercrime in Taiwan have not received the proper punishment and stolen funds have not been able to be returned to China," the statement said.
The ministry said that Chinese officials had been in contact with and would invite Taiwanese officials to China for discussions on fraud cases.
On Wednesday, a Ministry of Justice official in Taipei said that the ministry wanted China to send the Taiwanese home, but that China had acted according to principles of legal jurisdiction, because the suspects had been operating abroad.
Deporting suspects to third nations is not illegal under international law, said Julian Ku, a professor of international law at the Hofstra University in Hempstead, New York.
China also has the right under international law to prosecute people suspected of committing crimes directed at Chinese territory, Ku said.
"China makes a lot of bad arguments, but this one is pretty good," he said.
Complicating matters, Taiwan and China have abided since 2009 by their Cross-Strait Joint Crime-Fighting and Judicial Mutual Assistance Agreement (海峽兩岸共同打擊犯罪及司法互助協議), which formalized criminal-justice cooperation and established a procedure for each side to return the other's citizens in legal cases.
In a 2011 fraud case, 14 Taiwanese suspects who had been deported from the Philippines to China were sent back to Taiwan under the agreement.
Some experts suspect that China's change in strategy is a deliberate warning to president-elect Tsai Ing-wen (蔡英文), who is scheduled to take office on May 20 and has advocated an approach to cross-strait relations that is more cautious than her predecessor's.
"The Chinese [officials] are definitely trying to send a message," Ku said.
"Before this case, Taiwanese were used to being consulted by China. The level of trust that made the agreement work seems to have broken down," he added.
Comments will be moderated. Keep comments relevant to the article. Remarks containing abusive and obscene language, personal attacks of any kind or promotion will be removed and the user banned. Final decision will be at the discretion of the Taipei Times.