Ma to visit Penjia, near the disputed Diaoyutais
THIRD ANNIVERSARY: Ma is to travel to the site where he laid out his East China Sea peace initiative to celebrate the fishing agreement with Japan
President Ma Ying-jeou (馬英九) is to unveil a monument to his East China Sea peace initiative when he visits an islet near the disputed Diaoyutai Islands (釣魚台) today, ahead of the third anniversary of an agreement between Taiwan and Japan to address fishing disputes in overlapping waters.
Ma is to host the unveiling ceremony on Pengjia Islet (彭佳嶼), situated just over 30 nautical miles (55.5km) north of Keelung and 76 nautical miles west of the Diaoyutais in the East China Sea.
Under the administrative jurisdiction of Keelung City, Pengjia Islet is Taiwan's northernmost territory that is closest to the contested island chain.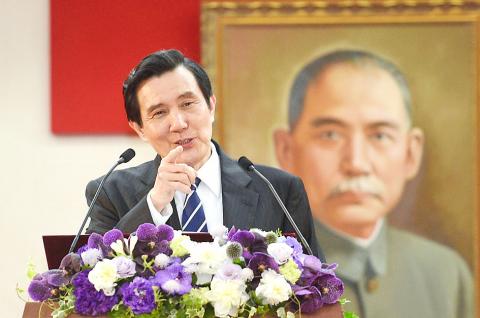 President Ma Ying-jeou speaks at a workshop on the South China Sea yesterday at the Ministry of Foreign Affairs in Taipei.
Photo: George Tsorng, Taipei Times
After he arrives on the islet on an S-70C helicopter, Ma is to inspect a weather observation station and a patrol station, as well as tour a lighthouse. He is then to unveil the monument to his East China Sea peace initiative and give a speech.
Ma last visited Pengjia in September 2012, during which he laid out the details of his East China Sea peace initiative. Ma came up with the peace proposal in August 2012 amid escalating spats over the Diaoyutais, known as the Senkakus in Japan.
While reaffirming Taiwan's claim to the Diaoyutais, Ma also called for all claimants to shelve their differences, pursue peace and reciprocity and jointly explore the resources in the area.
The Diaoyutais, about 120 nautical miles northeast of Taipei, are also claimed by China, which calls them the Diaoyu Islands (釣魚嶼).
In an effort to address fishing disputes in waters near the Diaoyutais, Taiwan and Japan signed a fishery agreement April 10, 2013. Under the terms of the agreement, Taiwanese and Japanese fishermen are allowed to fish in a designated area in the region.
Ma's visit to Pengjia Islet will come just one day before the anniversary of the agreement. He is to be accompanied by senior government officials from the Ministry of the Interior, the Council of Agriculture and the Coast Guard Administration.
Personnel from the Coast Guard, the Customs Administration and the Central Weather Bureau are stationed on Pengjia. Meanwhile, Ma yesterday spoke at a workshop on the South China Sea at the Ministry of Foreign Affairs.
Ma in his speech yesterday reiterated the government's contention that from the perspectives of history, geography and international law, the Republic of China has sovereignty over the Spratly Islands (Nansha Islands, 南沙群島), Paracel Islands (Xisha Islands, 西沙群島), Macclesfield Bank (Zhongsha Islands, 中沙群島) and Pratas Islands (Dongsha Islands, 東沙群島) in the South China Sea, and their waters.
Comments will be moderated. Keep comments relevant to the article. Remarks containing abusive and obscene language, personal attacks of any kind or promotion will be removed and the user banned. Final decision will be at the discretion of the Taipei Times.