Military ready for South China Sea attack: ministry
Minister of Defense Kao Kuang-chi (高廣圻) yesterday said that tension has been rising in the South China Sea amid an arms race among nations in the region, and that Taiwan's armed forces are ready to defend its remote island outposts.
Due to a potential military threat against Taiwan's islands in the South China Sea, Kao said programs have been underway to enhance radar installations and electronic surveillance in the region and to improve the combat capability of the nation's coast guard units stationed on the Pratas Islands (Dongsha Islands, 東沙群島) and Spratly Islands (Nansha Islands, 南沙群島).
According to a Ministry of National Defense report to the legislature's Foreign Affairs and National Defense Committee, the ministry has mandated the Navy's Marine Corps to train coast guard units on weapon handling, operating artillery guns and field combat drills, for those units deployed on Itu Aba Island (Taiping Island, 太平島) and other outposts in the South China Sea.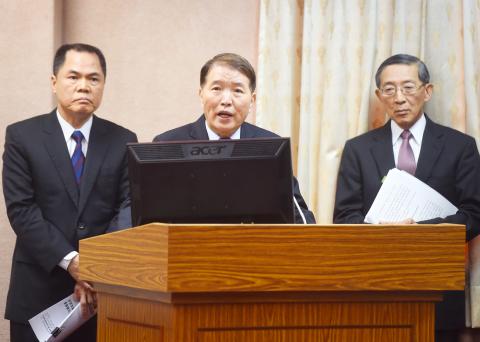 Minister of National Defense Kao Kuang-chi yesterday speaks during a question-and-answer session at the legislature as National Security Bureau Deputy Director-General Chou Mei-wu, left, and Minister of Foreign Affairs David Lin look on.
Photo: Chien Jung-fong, Taipei Times
It said that in recent years, defensive firepower on these outposts has been enhanced with the installation of Bofors 40mm guns and Taiwan's own T-63 120mm mortar systems, which receive regular repair and maintenance checks by artillery technicians.
When asked by Democratic Progressive Legislator Wang Ting-yu (王定宇) if the ministry has deployed anti-air missile defense systems on these islands, Kao said he was not at liberty to answer.
China's military and radar installations on Woody Island (Yongxing Island, 永興島), along with the lengthening of a runway to 3,000m might indicate that Beijing intends to declare an air defense identification zone (ADIZ) in the South China Sea, US Deputy Secretary of Defense Robert Work said on Wednesday.
National Security Bureau Deputy Director Chou Wu-mei (周伍美) said the bureau is aware of the situation and is monitoring developments in the South China Sea closely, as any unilateral declaration by China would increase tension in the region.
Chou said surveillance and intelligence gathering by the bureau and Taiwan's armed forces indicate China has been undertaking preparations to enhance Woody Island's basic infrastructure, and to deploy missile systems, jet fighters and other aircraft.
"However, we know that China does not yet have the military capability in the region to declare an ADIZ, therefore we believe it is unlikely China would do so in the near future," he said.
The ministry report said China has already deployed its Red Flag-9 anti-air missiles on Woody Island — with a firing range of 200km — and is currently testing the Eagle Strike-62 anti-ship cruise missiles, that have a range of 300km.
Chou and Kao said the armed forces would assert national sovereignty claims and defend Taiwan's islands and marine territories in the South China Sea, but they were not certain how long coast guard units could hold Itu Aba in the case of an attack.
Comments will be moderated. Keep comments relevant to the article. Remarks containing abusive and obscene language, personal attacks of any kind or promotion will be removed and the user banned. Final decision will be at the discretion of the Taipei Times.