Military Security Brigade emerges from shadows
Revelations that the military police, along with a military "counter intelligence agency," have been criticized for operating with a Martial Law-era mentality after the detention and search of a civilian's house to seize documents.
The scandal over the treatment of a man surnamed Wei (魏) who offered three historical documents for sale online last month has brought to public attention a shadowy military agency — the Military Security Brigade, which was set up as a special body by the Ministry of National Defense Political Warfare Bureau's Security Division.
The Military Security Brigade is a counter intelligence organization that conducts surveillance, wire tapping, intelligence gathering and other clandestine operations against suspected dissidents and communist spies, and upholds internal security against leaks of state secrets and to investigate criminal activities by military personnel.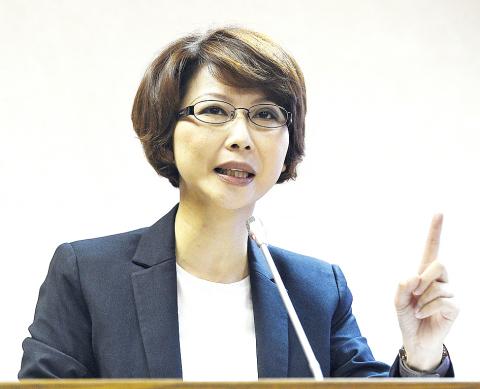 Democratic Progressive Party Legislator Chen Ting-fei questions officials about a military police search during a question-and-answer session at a meeting of the legislature's Foreign and National Defense Committee in Taipei yesterday.
Photo: Chen Chih-chu, Taipei Times
The brigade was formerly part of the military's Counterintelligence Corps and before the overall restructuring in 1992, it was run by the Taiwan Garrison Command, which was responsible for the arbitrary arrest, torture, imprisonment without trial and executions of tens of thousands of Taiwanese during the Martial Law era from 1949 to 1987.
It was often compared to the Stasi secret police of the former East Germany and also described as Taiwan's Nazi SS unit during the Martial Law era, because the officers of Taiwan Garrison Command swore loyalty only to Chiang Kai-shek (蔣介石) and then his son, former president Chiang Ching-kuo (蔣經國), as they committed atrocities with impunity.
The Military Security Brigade still operates, remaining among the nation's four intelligence-gathering secret services, the others being the National Security Bureau, the Military Intelligence Bureau and the ministry's Office of Telecommunications Development.
Military Security Brigade Chief Colonel Wang Shih-wei (汪世偉) was summoned for questioning by prosecutors in the ongoing investigation into the case, while Security Division head Major General Chao Tai-chuan (趙代川) was removed from his post on Tuesday.
At the legislature's Foreign Affairs and National Defense Committee meeting yesterday, Democratic Progressive Party (DPP) Legislator Chen Ting-fei (陳亭妃) accused the Military Security Brigade of orchestrated the operation, as they had officers accompanying military police personnel to meet Wei and were stationed outside Wei's house to carry out surveillance throughout the day.
DPP Legislator Wang Ting-yu (王定宇) said he has obtained information that indicated Chao, as head of the Security Division, was the leading figure in the illegal search, coordinating with officers from Military Security Brigade.
Wang accused Chao of telling military police that search warrants were not necessary, and that Chao, along with officers of Military Security Brigade, approved the decision to carry out the operation on Feb. 19 to meet Wei and afterward lied to top military officials to try to cover up the misconduct.
Comments will be moderated. Keep comments relevant to the article. Remarks containing abusive and obscene language, personal attacks of any kind or promotion will be removed and the user banned. Final decision will be at the discretion of the Taipei Times.