Lecturers denied maternity leave
EIGHT-WEEK INCENTIVE: Union head Liu Mei-chun said the government should encourage people to have children by offering a better environment to raise them
The Taiwan Higher Education Union yesterday said that an overwhelming majority of part-time university lecturers were denied maternity leave, demanding that the Ministry of Labor include such lecturers in the Labor Standards Act (勞動基準法) so that they would have the same rights as their full-time colleagues.
Union office director Chen Shu-han (陳書涵) said the act stipulates that workers who have been employed for six months or longer must be paid their full salaries during their eight-week maternity leave, but many universities refuse to pay part-time academics during their leave.
Chen said that the union last week randomly surveyed 10 universities and found that eight of them laid down "discriminatory" rules for part-time teachers wanting to take time off.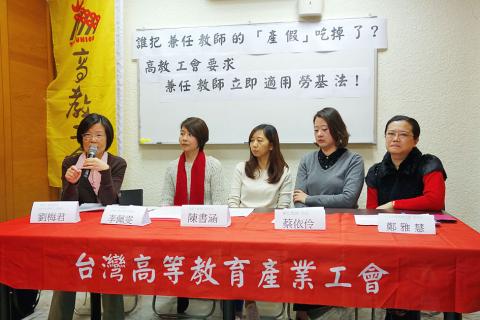 Members of the Taiwan Higher Education Union yesterday hold a news conference in Taipei, calling on the Ministry of Labor to allow all part-time university lecturers to be covered by the provisions of the Labor Standards Act.
Photo: Wu Po-hsuan, Taipei Times
National Chiao Tung University and National Taipei University tell part-time lecturers that they must have other lecturers stand in for them and that they would not receive salaries during their time off, meaning the lecturers have to pay their substitutes while on leave, Chen said.
National Chiayi University said that part-time lecturers who take sick or personal leave for one month would be fired, Chen said.
"Did the ministry excluded part-time lecturers from the act's jurisdiction to cut personnel costs on behalf of schools?" Chen asked.
Chen said that even though part-time lecturers are not protected by the act, the universities setting unfavorable rules on lecturers have ignored the Act of Gender Equality in Employment (性別工作平等法).
Tainan University of Technology lecturer Tsai Yi-ling (蔡依伶) said she paid her substitute one month's salary in her postnatal confinement period, while full-time lecturers are paid in full during maternity leave.
Tsai said she dared to take only one month off after giving birth.
She said that because her husband, who is also a part-time lecturer, was not granted paternity leave and was working in another municipality, she had to ask a friend living nearby to rush her to hospital when she went into labor.
Even though they both pay a premium for labor insurance, neither she nor her husband could request the six-month furlough and subsidies allowable by the Ministry of Labor, Tsai said.
Union head Liu Mei-chun (劉梅君) said the rules set by most universities on pregnant part-time lecturers "punish" people who want to have children.
Citing data released by the ministry, Liu said that discrimination against pregnant women was the most common type of discrimination handled by the ministry, and added that systemic reform is much needed.
She criticized a proposal by Democratic Progressive Party (DPP) Legislator Yeh Yi-jin (葉宜津) to issue a NT$3,000 subsidy to families with minors to encourage people to have children, saying that studies suggest that direct subsidies were the least effective way to boost birth rates.
The government should instead provide people with a better environment to raise their children, Liu said.
The union demanded that the ministry ask the Ministry of Education to issue an official document to the nation's 160 tertiary institutes to instruct them to proactively offer pregnant part-time lecturers maternity leave of eight weeks.
To ensure equality among faculty members, part-time lecturers' salaries should be issued in full during maternity leave, and all institutes should abolish the rule requiring part-time lecturers to hire substitutes before they can go on leave, it said.
In a statement, the Ministry of Education urged all tertiary institutes to heed the gender equality act to ensure part-time lecturers' interests.
Part-time lecturers' rights are not covered by the labor act, but by regulations governing tertiary institutes' employment of part-time lecturers, the education ministry said.
The education ministry said it is working to amend the regulations to bolster part-time lecturers' rights.
Comments will be moderated. Keep comments relevant to the article. Remarks containing abusive and obscene language, personal attacks of any kind or promotion will be removed and the user banned. Final decision will be at the discretion of the Taipei Times.