Bust of Chiang Kai-shek vandalized in Taichung
'SAVIOR' to 'BUTCHER': A DPP councilor said that while he sympathized with public's sentiment, he could not agree with damaging public property
A monument to former president Chiang Kai-shek (蔣介石) in a Taichung park was yesterday vandalized, with the Chinese characters for "butcher" spray-painted in red paint over its original inscription that reads "Savior of the Nation." Red paint was also splashed on Chiang's bust.
The graffiti on the monument in Nanyuang Park (南苑公園) in the city's Nantun District (南屯) was discovered by visitors yesterday morning, who reported the incident to Democratic Progressive Party (DPP) City Councilor Chang Yao-chung (張耀中).
At a news conference held at the park, Chang said that while he sympathizes with the public's sentiment that the "painful history" of the 228 Massacre should not be "forgotten or ignored," destroying or damaging public property is "not an appropriate exercise of the freedom of speech."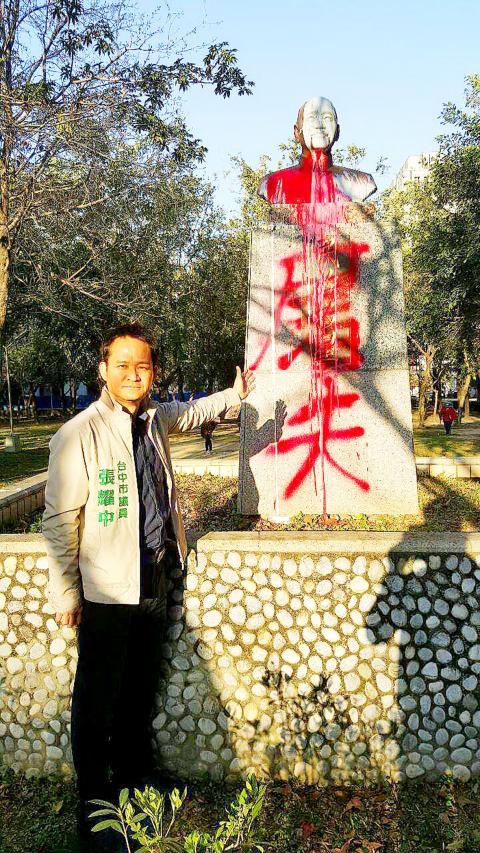 Democratic Progressive Party City Councilor Chang Yao-chung gestures toward a vandalized monument to late president Chiang Kai-shek in Nanyuang Park in Taichung's Nantun District yesterday.
Photo: Su Chin-feng, Taipei Times
The 228 Massacre refers to a crackdown launched by the Chinese Nationalist Party (KMT) regime against civilian demonstrations following an incident in Taipei on Feb. 27, 1947.
The event marked the beginning of the White Terror era that saw thousands of Taiwanese arrested, imprisoned or executed.
Many academics and public figures blamed Chiang for the 228 Massacre and held him responsible for White Terror era repression, a period during which he was the head of the state.
Iconoclasm against KMT monuments, particularly against Chiang's statues, is common on 228 Memorial Day, with at least three such incidents reported on Sunday.
However, Chang said it is unusual for an act of vandalism to occur the day after 228 Memorial Day, adding that last year, a statue of Chiang in Jhongjheng Park (中正公園) in the city's Bei District (北) was also vandalized.
ANNUAL ISSUE
To avoid acts of vandalism every year, the city government should remove as many statues and monuments of Chiang and former president Sun Yat-sen (孫逸仙) as possible from public spaces and schools, Chang said, while calling on the public to refrain from expressing their opinions using illegal methods.
"Painting over municipal property in a park is potentially a crime against property," he said.
Chang said that he is to make a formal proposal in the Taichung City Council's regular session to demand that the city conduct a full count of the number of monuments to Chiang and Sun, and to make plans for their removal from public spaces.
"I do not think this would be a program to erase Chiang, but it would be a program to return public installations and facilities to their original purposes and restore neutrality on campuses," he said.
Comments will be moderated. Keep comments relevant to the article. Remarks containing abusive and obscene language, personal attacks of any kind or promotion will be removed and the user banned. Final decision will be at the discretion of the Taipei Times.