Taiwan never 'equal' under Ma: Freddy Lim
New Party Power (NPP) Legislator Freddy Lim (林昶佐) yesterday criticized President Ma Ying-jeou's (馬英九) oft-trumpeted principles of equality and dignity in cross-strait relations, saying Taiwan has always been belittled under Ma's administration.
Taking part in his first interpellation session at the legislature in the morning, which lasted about 30 minutes, Lim drew attention to the issues of Taiwan's national identity, transitional justice and discriminatory comments toward Tao Aborigines in the film David Loman 2 (大尾鱸鰻2).
"For the past eight years, the Ma administration has insisted that cross-strait ties be furthered based on the so-called '1992 consensus' and the 'one China, different interpretations' initiative," Lim said after calling on Premier Simon Chang (張善政) for questioning.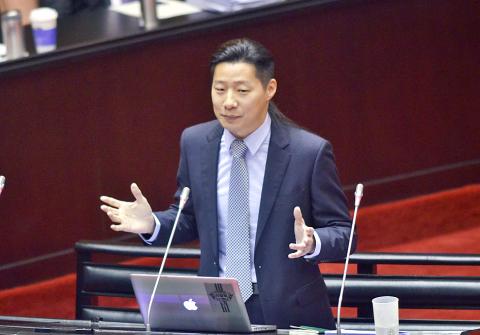 New Power Party Legislator Freddy Lim yesterday asks a question of Premier Simon Chang at the Legislative Yuan in Taipei.
Photo: Wang Yi-song, Taipei Times
The "1992 consensus," a term former Mainland Affairs Council chairman Su Chi (蘇起) admitted making up in 2000, refers to an understanding between the Chinese Nationalist Party (KMT) and Chinese government that both sides of the Taiwan Strait acknowledge that there is "one China," with each side having its own interpretation of what "China" means.
Ma had defined the cross-strait relationship as a "non-state-to-state special relationship" that he said should be maintained under the principles of equality and dignity, Lim said.
"By the president's logic, as Taiwan is called 'Chinese Taipei' in international arenas, should China not also be belittled and called 'Chinese Beijing?'" Lim said.
"Have you ever consider pressuring China into changing its name to Chinese Beijing and forbidding it to hoist its national flag and singing its national anthem at international events?" he asked Chang.
Lim said the equality and dignity many Taiwanese, including himself, aspire to see is Taiwan and China being treated equally as two separate and normal nations.
The singer-turned-politician then asked Chang and Mainland Affairs Council Minister Andrew Hsia (夏立言) what the most befitting titles for Taiwan and China at international events are if they are to conform to the principles of equality and dignity.
Chang said that under the Republic of China's (ROC) Constitution, the ROC is a nation and that its government does not recognize the other side of the Taiwan Strait as a sovereign state.
"When it comes to international organizations, not everything can go as we wish. What they prefer to call Taiwan and China are their decisions, but Chinese Taipei is an appellation that enables us to participate in international sports events," Chang said.
Hsia said the government has been striving to allow Taiwan to attend international events using its official title.
"If your ultimate goal is to see the coexistence of both the ROC and People's Republic of China, then you are referring to the 'two-state theory' and a world where there are two Chinas. That makes you a supporter of 'ROC independence,'" the NPP lawmaker said.
As a champion of "Taiwanese independence" himself, Lim said that he admired Hsia for going against Ma's stance and being an advocate of "ROC independence."
Many things might come out of the "1992 consensus" and the "one China, with different interpretations" initiative, but never equality and dignity, Lim said.
He said that since Taiwanese used their votes against Ma's China-leaning stance and the "1992 consensus" in last month's elections, Beijing should refrain from resorting to "despicable measures" just because the incoming government of president-elect Tsai Ing-wen (蔡英文) does not support the "consensus."
Comments will be moderated. Keep comments relevant to the article. Remarks containing abusive and obscene language, personal attacks of any kind or promotion will be removed and the user banned. Final decision will be at the discretion of the Taipei Times.