FEATURE: Public transport use remains low
INCONVENIENT: A government project to boost usage of public transport has seen minimal success, with some citing infrequent or unreliable bus services as the culprit
To Evelyn Ho (何尹), a homemaker with two young children, one thing good about living in downtown Taipei is the convenience.
Ho's family lives in an apartment at the corner of Xinsheng S Road and Renai Road, two important arterial roads in the city. It takes her only two minutes to walk to a bus stop on Xinsheng or on Renai. At both bus stops, she can easily check how many minutes she needs to wait until her bus arrives.
Moreover, the apartment where she lives is only 400m from the Taipei MRT's Zhongxiao Xinsheng Station — one of the main transfer stations along the metropolitan railway system's Blue Line.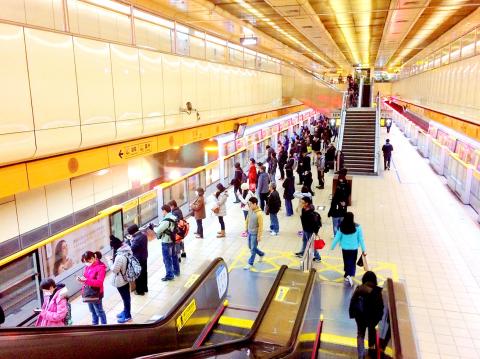 MRT passengers wait for a train at Dingxi Station in New Taipei City on Jan. 26.
Photo: Kuo Yi, Taipei Times
Ho said that her family does not have a car, because it is expensive to own one in Taipei.
"We have buses heading to Sijhih (汐止) and Neihu (內湖) pass by our apartment every day, so we do not need to drive," she said.
By contrast, Taichung resident Chang Mei-chen (張美珍) does not have the same convenient access to public transport that Ho does.
A mother with one young child, Chang said she usually drives a car or scooter to run errands or take her kid to school, even though she lives close to a bus stop.
"You have to wait about 30 minutes for the bus to come. I have to check the bus schedule first before leaving the house," she said, adding that she only takes the bus when she has no urgent business.
Chang said that not many people take public buses in central and southern Taiwan. Given the infrequent service and relatively complicated network of buses, she said that riding a scooter takes her to her destination faster than a bus can.
It was this prevalently low public transport usage rate in cities outside the greater Taipei metropolitan area — Taipei, New Taipei City and Keelung — that prompted the Ministry of Transportation and Communications to launch a project in 2008 to boost public ridership, especially of buses.
Then-minister of transportation and communications Mao Chi-kuo (毛治國) said at the time that a city should not even think of building an MRT system if it cannot run a reliable public bus system and build up a sufficient base of public transport users. He added that building an MRT system without enough riders would be disastrous.
The government has spent approximately NT$24 billion (US$717.4 million) on the project since its launch in 2008, according to the ministry's Department of the Railways and Highways.
However, ministry statistics showed only a gradual increase in the ratio of public transport users — from an average of 13.4 percent in 2009 to 16 percent in 2014.
It takes approximately NT$9.2 billion to produce just a 1 percent increase in public transport users, ministry data show.
Taipei continued to lead the nation in having the highest number of public transport users at 37 percent in 2014, followed by Keelung with 32.4 percent and New Taipei City with 31.4 percent.
Public transport usage rates in the other four special municipalities were as follows: Taoyuan (14.1 percent), Taichung (10 percent), Kaohsiung (8.2 percent) and Tainan (5.4 percent). The remaining cities and counties all had less than 10 percent, with the lowest being in Chiayi City (3.7 percent) and Taitung County (3.6 percent).
Apart from the project's minimal success, concern has arisen that falling crude oil prices would stem the growth of public transport users nationwide or even lead to a drop below the percentage recorded before 2009.
A government survey showed that scooters remained the main medium of transportation in the nation at 46 percent. When asked why they chose not to use public transport, 47 percent of respondents said it was easier to travel by car or scooter.
Taipei resident Chang Yang (張揚), who had just completed his military service in Taitung's Changbin Township (長濱), said he was not surprised by the survey results.
Taitung does not have a city bus service; the only bus service available is for travel from one town to another, which is why most people living in the city prefer scooters, he said.
Kaohsiung resident Su Wei-hsuan (蘇瑋璇) said that people in the city are used to riding scooters, and parking is never a problem.
Su added that the bus system in Kaohsiung is unreliable.
Although the Kaohsiung City Government has managed to boost public transport usage by offering discounts to iPass holders, Su said that most people still prefer riding a scooter, as it can take them door to door.
Department of Railways and Highways Deputy Director Wang Mu-han (王穆衡) said that the continuous fall in oil prices does present a challenge to the ministry in forecasting public transport usage.
He said the ministry has to change its strategy to meet this challenge, but he does not think that lowering bus fares would be helpful, because bus companies' operating costs would continue rising despite falling oil prices.
Wang said the ministry would continue tapping into potential sources of public transport users, including tourists visiting the east coast, college students and workers in science parks.
From 2008 to last year, the ministry spent about NT$3 billion each year to boost public ridership, including about NT$1.8 billion in subsidies to bus companies servicing remote areas and NT$800 million for the purchase of new buses and related facilities, he said.
The remaining funds were used to develop innovative services, such as installing multiple card readers on public buses, providing shuttle bus services on campuses, setting up mechanisms for tracking bus movements and experimenting with a bus-on-demand service for low-population areas, he said.
Wang said that public transport users grew by about 0.7 percent last year, but added that he could not say whether the number would continue growing this year in the face of plummeting oil prices.
Jason Chang (張學孔), head of National Taiwan University's Advanced Public Transportation Research Center, said that he supports the continual investment in public transportation systems, adding that the usage rate nationwide might be even less than 16 percent if the government had done nothing about it.
The government spent about NT$700 billion to build the 136km-long MRT system in Taipei and New Taipei City, he said.
That translates into about NT$5 billion of taxpayers' money for each kilometer, but the government was spending less than NT$5 billion each year in an effort to boost public transport usage around the nation, he said.
"Taiwanese used to have this misconception that building an MRT system would solve all traffic problems. However, if you look at the example of the Taipei MRT system, you will find that 75 percent of the MRT's pasengers used to be public bus riders. Taipei and New Taipei City have a combined population of about 6.8 million and only about one-third of that use public transport. There are still traffic jams every day on Zhongxiao E Road and the highway leading to Sinjhuang (新莊) and Sanchong (三重)," Chang said.
He added that the government has to use almost the same amount of money it spent to build the MRT system to maintain its operations as well as improve public infrastructures around its stations.
Chang said the government must also find more effective ways to curb the growth of private vehicles.
It could consider charging car or scooter owners for inner city parking, and part of the revenue from these parking fees could be used to fund the development of public transportation, he said.
Criticizing Taipei Mayor Ko Wen-je's (柯文哲) decision to charge YouBike users, Chang said riders should have been given a fee waiver as a reward for using public bicycles rather than motor vehicles during peak hours.
Chang said that some cities and counties do not need an MRT system and should focus on encouraging people to take buses.
If they succeed in increasing the number of bus riders, they can use this as a leverage to ask the central government for more subsidies or a matching fund to develop public transportation, he said.
Chang said that local governments lack qualified personnel who know how to plan and execute strategies for developing a public transport system.
As such, some counties end up returning the budget to the treasury, because they did not how to use the money, he said.
Chang Sheng-hsiung (張勝雄), an associate professor at Tamkang University's Department of Transportation Management, said that low oil prices could motivate some people to start driving again, but they need to be informed that the flexibility and privacy they gain from driving comes at a price.
"Congestions occur when the number of vehicles exceeds road capacity, which is also part of the cost. People would consider switching to public transport if they are tired of congestions," he said.
"Sometimes, people need to be told that they have options other than being stuck in traffic," he said.
Comments will be moderated. Keep comments relevant to the article. Remarks containing abusive and obscene language, personal attacks of any kind or promotion will be removed and the user banned. Final decision will be at the discretion of the Taipei Times.