Bird-lovers urge Kaohsiung to heed ruling on roadway
Following a court order for the Kaohsiung City Government to withdraw a proposed road construction in a major winter habitat for black-faced spoonbills, bird-lovers yesterday called on the city government to respect the verdict and put conservation above development.
To accommodate increasing traffic demand, the city government proposed building a 900m roadway cutting through the northwestern part of the Cieding Wetlands (茄萣溼地) — the nation's second-largest habitat for black-faced spoonbills after the Cigu Wetlands (七股溼地) in Tainan.
The proposed project passed an environmental review in 2014, but local residents filed an administrative lawsuit demanding that the city withdraw the project.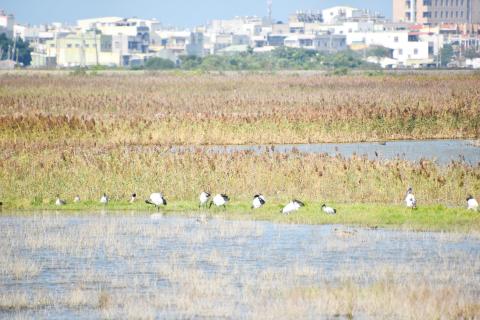 Birds stretch their legs at the Cieding Wetlands, a major winter habitat for black-faced spoonbills, in Kaohsiung on Wednesday.
Photo: Su Fu-nan, Taipei Times
The Kaohsiung High Administrative Court on Tuesday overruled the environmental review, but has yet to release its written judgement and reasons for the verdict.
In the lawsuit, the plaintiffs stated that the Cieding Wetlands is a nature reserve of national importance inhabited by black-faced spoonbills, peregrine falcons and other protected species, and developments such as the proposed roadway that would have a significant ecological impact should be avoided where possible, but the city government pushed the project despite feasible alternatives to the roadway, which was in violation of the Wetlands Conservation Act (濕地保育法) and the Environmental Impact Assessment Act (環境影響評估法).
Kaohsiung Wild Bird Society general manager Lin Kun-hai (林昆海) said that the environmental review process was hasty and flawed, as the review committee had a predetermined position on the project.
The committee overlooked a more cost-effective and environmentally sustainable option in favor of the roadway, whose advantage has been questioned because a 900m passage would hardly save time for travelers, he said.
Lin added that it was unreasonable for the committee to favor the roadway over an alternative solution that proposes to improve existing roads surrounding the wetlands.
Plans for construction of the roadway showed that it would be closed in winter to avoid disturbing migrating birds, thus making the roadway a dispensable option with a higher environmental cost compared with improving nearby roads, he said.
"The court's overruling of the case was a clear message to the city government, warning it against having a predetermined mindset and disrespecting the review process. We call on the city government to accept the verdict and not to appeal the case to protect the environment," Lin said.
Comments will be moderated. Keep comments relevant to the article. Remarks containing abusive and obscene language, personal attacks of any kind or promotion will be removed and the user banned. Final decision will be at the discretion of the Taipei Times.