Giant nest with thousands of hornets inside removed
A hornet nest with a diameter of 1.15m, housing about 25,000 Vespa basalis, or black-tailed tiger hornets, was removed from a mountainside property in Chiayi's Mudan Township (牡丹) last month.
Although onlookers were fascinated by the size of the hive, Yeh Feng-yung (葉豐永), the nest removal specialist who climbed a three-story-high tree to reach it, said he was not particularly impressed.
In the current hornet nesting season, which started in August last year, he has dealt with 80 nests each containing 4,000 to 45,000 hornets, while the largest nest he ever laid hands on in his career contained about 60,000, Yeh said.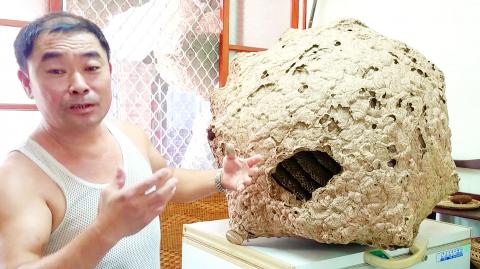 Yeh Feng-yung, a hornets-nest removal specialist, stands next to a nest on Dec. 13 last year.
Photo: Yu Hsueh-lan, Taipei Times
He is a locally renowned expert in hornet nests with 30 years of experience, and had previously managed a Yunlin-based hornet education and training center for professionals, Yeh said.
Four out of Yeh's eight apprentices have become hornet nest removal specialists, he said.
He grew up in the mountains and, at the age of 19, began catching hornets with a net that he had made, because he was tired of being stung, Yeh said.
"God put me here to catch hornets and gave me the skills to do it," he said.
The profession can be painful, Yeh said, adding: "There was this time when I was stung 16 times by black tails. I drank some rice liquor for the pain, took down the nest and took it home."
The annual season for hornets is from August to January, a period that he typically spends in the wilderness under a tent surveying and removing nests, Yeh said.
Hornet queens usually hibernate in a hole until April, producing about 100 drones, before usually leading the swarm up a tree to build a permanent nest.
August brings the crunch period to his business cycle, because only then are the nests large enough to be worth the trouble and cost of removal, he said.
By October, hornet nests reach peak population as young females mate with males, after which males die and females leave the nest, leading to a decline in the population, Yeh said.
"By January, nests are virtually devoid of chrysalises with only hornets left in them," he added.
Comments will be moderated. Keep comments relevant to the article. Remarks containing abusive and obscene language, personal attacks of any kind or promotion will be removed and the user banned. Final decision will be at the discretion of the Taipei Times.