ELECTIONS: Large contingent of police officers deployed in Neihu
NEGLECTED ISSUE? The protesters called for the presidential candidates not to ignore the suffering of the public over the issue of forced relocations
A contingent of 227 police officers was deployed by the Taipei City Police Department's Neihu Precinct yesterday to keep the peace near the Sanlih Television building in Taipei where the second and final presidential debate was held.
At about noon, various protest groups started setting up their banners, staging skits and chanting slogans.
Among the protesters were dozens of landowners from Taipei's Wufenpu (五分埔) garment district demanding that the Chinese Nationalist Party (KMT) produce a solution regarding eight families that were unlisted when the city government relocated residents in 1955 to enlarge roads.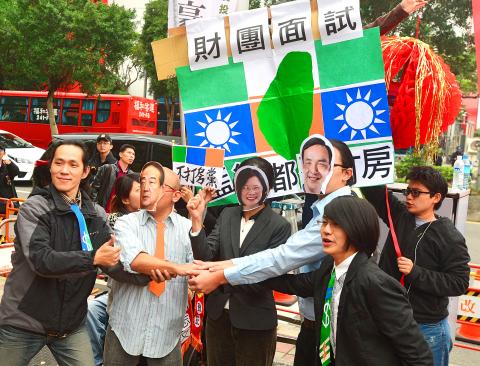 Members of the Democratic Alliance perform a skit outside the Taipei venue for the second debate between the presidential candidates yesterday, accusing the candidates of kowtowing to big business.
Photo: Wang Yi-sung, Taipei Times
There were also representatives of families from New Taipei City's Sinjhuang District (新莊) who were forced to relocate to make way for an MRT maintenance depot, who demanded that the presidential candidates address the issue of housing relocation.
Members of the Anti-Forced Relocation Alliance also protested against the Urban Planning Act (都市計畫法) and the Urban Space Rezoning Enforcement Act (市地重劃實施辦法), criticizing the laws as outdated and not allowing a sufficient level of public consultation.
The protesters called for the three presidential candidates not to ignore the suffering of the public.
Members of The People Are The Boss — a left-wing political party established in 2011 — also protested at the site, criticizing KMT presidential candidate Eric Chu (朱立倫), Democratic Progressive Party presidential candidate Tsai Ing-wen (蔡英文) and People First Party presidential candidate James Soong (宋楚瑜) over what they described as the candidates' failures to uphold justice in their housing policies.
The three political parties seemed to have a consensus on not touching the real-estate issue, the members added.
The protesters dispersed peacefully after voicing their demands.
Comments will be moderated. Keep comments relevant to the article. Remarks containing abusive and obscene language, personal attacks of any kind or promotion will be removed and the user banned. Final decision will be at the discretion of the Taipei Times.