ELECTIONS: Candidates answer netizens' questions
WELL-CONNECTED: All the candidates touted their strong advocacy of Internet access, with the DPP's Tsai Ing-wen saying that 'broadband Internet service is a basic civil right'
Questions ranging from technology, the judicial system, the pension system, monetary policy and workers' rights from people online were put to the three candidates yesterday during the second and final presidential debate.
All three candidates agreed that free Internet access should be provided, along with fast, good-quality connections, and that the digital divide should be narrowed by the government.
People First Party (PFP) presidential candidate James Soong (宋楚瑜) said that Internet connection speed is one of the major projects in his development proposal that aims at "overtaking South Korea and catching up with Singapore" by 2030.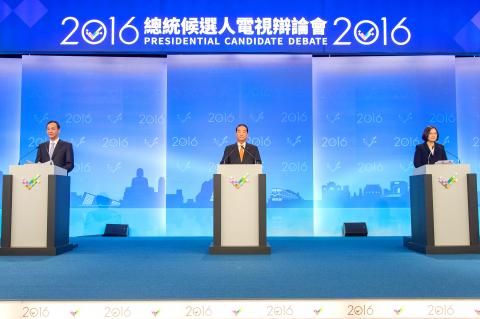 The presidential candidates from the Chinese Nationalist Party (KMT), Eric Chu, the People First Party, James Soong, and the Democratic Progressive Party, Tsai Ing-wen, left to right, stand behind their podiums during yesterday's televised debate in Taipei.
Photo provided by the organizers of the debate
"I would transform Taiwan into one of the top 10 nations with the fastest Internet connection speeds in four years. It is currently ranked 33rd," he said.
He said that while access to the Internet, with its devices needing basic maintenance, could not be free, it should be kept at a low price and the government would have to work on the security of the flow of information.
The Internet industry should be supported, as Taiwan has to integrate with the world via the Internet, with the flow of money, products and information all catching up with the idea of Industry 4.0, Soong added.
Chinese Nationalist Party (KMT) presidential candidate Eric Chu (朱立倫) said Taiwan would overtake Singapore in two years and Hong Kong and Japan in four years to reach the level of South Korea.
"I also propose that people from low-income households should have free Internet access, which is something that I have done in New Taipei City," he said.
"I proposed in 2012 that access to broadband Internet service is a basic civil right, and I uphold that again," Democratic Progressive Party (DPP) presidential candidate Tsai Ing-wen (蔡英文) said, adding that upgrading the Internet and its speed will be the priority of the party's infrastructure project.
"Other than hardware, we are to provide public service and commercial opportunities through the application of the Internet of Things, big data and digital cities. Also, we would make digital literacy a basic skill, having our children equipped with basic digital and programing abilities through our public education system," Tsai said.
The second question was: Do you believe there is too much room for the discretion of judges, who have the protection of a lifetime appointment?
The candidates said that the president should take on the responsibility of initiating reforms of the judicial system and that Taiwanese should actively participate in the judicial process. The current "lay observer system" should be improved to a jury system that guarantees people's participation.
Tsai said that regulations on judicial officials entering and exiting the field should be re-examined and their human rights literacy enhanced.
Chu said the public has lost faith in the quality of the nations judicial system, "with different results coming from different courts and at different times."
The third question raised the controversial pension system of retired military personnel, public-school teachers and civil servants, some of whom "draw a monthly pension equal to or even more than 100 percent of their pre-retirement salary," and asked for the candidates' solutions.
Soong said that the nation's debt has not been caused by retirees from public employment.
"It is rather a result of the squandering of the nation's leaders, as we now witness in Miaoli," he said.
"There should be a ceiling to the monthly pension that could be drawn by these retirees, but also a 'floor' in order to protect low-income earners," he said.
Chu said the question was "problematic," as only a minority of the retirees actually draw a monthly pension that is more than 100 percent of their pre-retirement salary.
He emphasized that the pension reforms should not be targeting merely public employees, but also other insurances "and we should establish a 'global budget system' in which those who pay more get more."
Tsai called for "gradual and stable reforms" that would not generate problems for those who live off their pensions, narrowing the gap between different occupations in terms of pension benefits and pushing for reforms with, not against, the three groups of public employees.
"I propose a pension reform committee be convened with experts, academics and representatives from different walks of life included for negotiations to be possible," she said.
The fourth question, which attributed Taiwan's structural economic predicament to the nation's "long-term unstable monetary policy" overseen by the central bank, received the three candidates' unanimous objection, denying that the central bank and its monetary policy should be held solely accountable for Taiwan's economic problems.
Soong, quoting former president Chiang Ching-kuo (蔣經國), said that for the public's livelihood, stable prices are as important as economic development.
"The reason we are stuck in an economic quagmire is political. When it was time to go West, we failed to do so, and when it was time to go South, we again failed to move," he said.
Chu said central bank Governor Perng Fai-nan (彭淮南) has been trusted by the past and present three presidents and received a total of 12 "As" from the Global Finance magazine.
"Taiwan's predicament should be tackled with industry policies and global strategies, and I plan to promote innovation, openness and structural transformation," he said.
Tsai said that the central bank usually does "a comprehensive consideration of the nation's imports and exports before making decisions in order to ensure the stability of the overall economy, which is the correct approach."
The last question slammed the failure of the Labor Standards Act (勞動基準法) to cover all workers, adding that while the law has been in effect for years, it has not been implemented, especially by small and medium-sized enterprises.
"The question raised a major malaise of the time, which is the problem of dispatched labor, exploited by many areas, including government and state-run businesses," Soong said.
"If elected, I would not allow the government to capitalize on the legal loopholes, and carry out inspections on those companies that violate the labor law," he said.
Chu said he would encourage people to inform on those enterprises that fail to observe the labor law, with fines to be levied.
"As we understand that whistleblowing mgiht not be what employees are willing to do, the government's labor inspection is crucial," he said, adding he would raise the ratio of inspectors to workers for it to reach the level of developed nations.
Tsai said employees hired by microenterprises, part-time workers and dispatched workers are three groups that need further protection by regulations; "and the DPP, which has always been standing with workers, would have the rights of the vulnerable be better protected with comprehensive labor, health, occupational health and safety and employment insurances."
Comments will be moderated. Keep comments relevant to the article. Remarks containing abusive and obscene language, personal attacks of any kind or promotion will be removed and the user banned. Final decision will be at the discretion of the Taipei Times.