Hundreds rally in Taipei for right to cleaner air
TERRORIZED: Professor Chan Chang-chuan urged Taiwan to close its coal-fired power plants and reduce energy use, saying that the nation has other energy resources
Hundreds of campaigners yesterday took to the streets in Taipei to demand government action to ensure clean air and to raise awareness about the threat of global warming.
The demonstrators convened in front of the Environmental Protection Administration in Taipei, where environmental activists, academics and event participants gave speeches. Some participants said they came from Yunlin and Kaohsiung.
Former Academia Sinica president Lee Yuan-tseh (李遠哲) said the international community is not doing enough to meet the Paris Agreement goal reached during the UN Climate Change Conference (COP21) this month to cap global warming at 2°C and drive the figure down to 1.5°C if possible.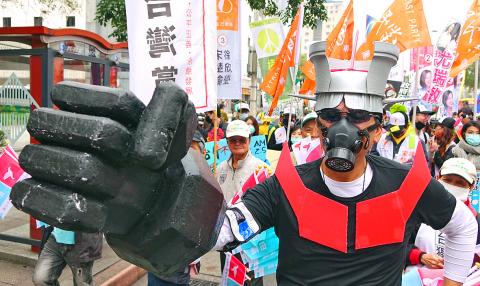 A man wears a gas mask while participating in an anti-pollution protest in Taipei yesterday.
Photo: Liu Hsin-de, Taipei Times
Lee said that carbon reduction goals proposed at the Paris meeting would lead to a global temperature rise of 2.7°C 30 to 50 years from now, and he urged Taiwanese to cut their annual carbon emissions per capita of 11 tonnes.
Lee said that if the international community is to achieve its goal of capping the global temperature increase at 1.5°C, people must achieve zero carbon emissions by 2050, meaning the amount of carbon dioxide produced should not exceed that which can be reabsorbed.
National Taiwan University Institute of Occupational Medicine and Industrial Hygiene professor Chan Chang-chuan (詹長權) urged the government to shut down coal-fired power plants and not to "terrorize" people by saying that doing so would cause an energy shortage.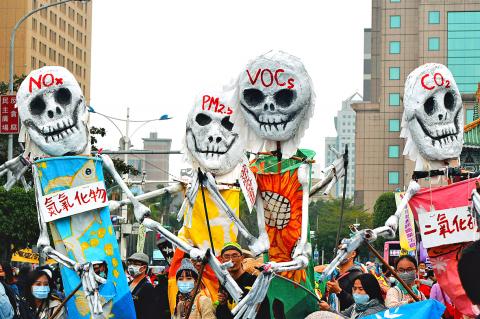 Demonstrators participating in an anti-pollution protest in Taipei yesterday hold up skeleton effigees during their march from the Environmental Protection Administration (EPA) to Ketagalan Boulevard.
Photo: CNA
Chan said scientific studies have shown that the nation would have enough energy without coal-fired power plants.
He said that Taiwanese consume more than 10,000 kilowatt-hours (kWh) of electricity per capita each year, while Germans and Japanese use between 7,000 and 8,000kWh per capita, indicating Taiwanese could adopt a more energy-efficient lifestyle.
The crowd later moved to the Presidential Office Building, with some participants holding up elaborate props and playing music.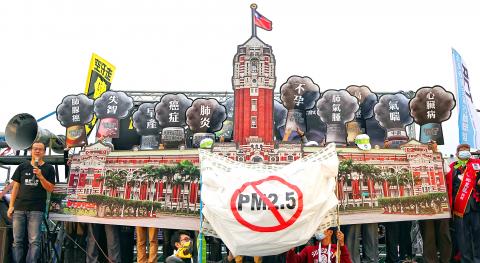 Participants in yesterday's anti-pollution demonstration in Taipei put a face mask on the Presidential Office Building during a skit on Ketagalan Boulevard.
Photo Credit
The three vice presidential candidates also discussed their parties' commitment to cutting carbon emissions.
People First Party presidential candidate James Soong's (宋楚瑜) running mate, Republican Party Chairperson Hsu Hsin-ying (徐欣瑩), touted her experience helping people fight companies creating pollution during her time as Hsinchu County councilor and pledged to push legislation to work toward yesterday's appeals if her party is able to form a caucus after the Jan. 16 elections.
Chinese Nationalist Party (KMT) vice presidential candidate Jennifer Wang (王如玄) said that environmental issues cannot be neglected during the pursuit of economic development and that the if she and KMT presidential candidate Eric Chu (朱立倫) were elected, Chu would set up a task force to deal with environmental issues.
Wang said the KMT would lobby for the cancelation of the preferential electricity prices the government offers corporations.
Democratic Progressive Party vice presidential candidate Chen Chien-jen (陳建仁), formerly an Academia Sinica vice president, touted his credibility to tackle environmental problems, noting his experience advocating against the construction of Kuokuang Petrochemical Technology Co's (國光石化) naphtha cracker and his collaborations with prominent academics, such as Lee and National Chung Hsing University environmental engineering professor Tsuang Ben-jei (莊秉潔), on studies concerning carbon reduction and epidemiology studies concerning health hazards associated with PM2.5 — airborne pollutants measuring less than 2.5 micrometers.
Association of Yunlin Art, Culture and Ecology member Lin Fu-yuan (林富源) said that Chen needed to answer how he would tackle pollution caused by the Formosa Petrochemical Corp naphtha cracker complex in Yunlin County's Mailiao Township (麥寮), whose environmental impact assessment was passed when the DPP was in office.
Unable to give an immediate response, Chen said he would take Lin's opinions to the DPP for an internal review.
Comments will be moderated. Keep comments relevant to the article. Remarks containing abusive and obscene language, personal attacks of any kind or promotion will be removed and the user banned. Final decision will be at the discretion of the Taipei Times.