Running mates tackle public queries
CALL FOR REFORM: All three candidates emphasized the need for improving the legislature, but shied away from committing to an overhaul of the election system
Six questions selected by drawing lots from a pool of queries submitted by members of the public through online media platform Watchout (沃草) were directed at the three vice presidential candidates during the second part of the presidential debate yesterday.
The first question asked if the candidates agreed with a proposal that the Legislative Yuan should elect one-fourth of its legislators every year.
Republican Party Chairperson Hsu Hsin-ying (徐欣瑩) — People First Party (PFP) presidential candidate James Soong's (宋楚瑜) running mate — said she would suggest electing half of the legislators every two years, adding that people in the system are more important, because conflict between political parties is the primary reason for low legislative efficiency.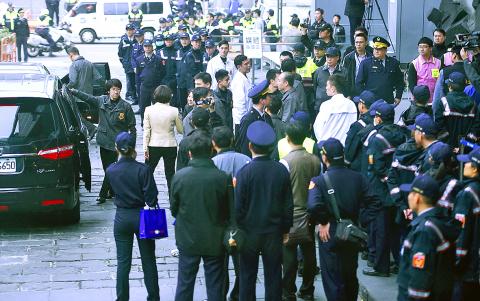 Police gather outside SET-TV's premises, the venue for the televised vice presidential debate between the candidates from the People First Party, the Chinese Nationalist Party (KMT) and the Democratic Progressive Party, in Taipei yesterday.
Photo: Liao Chen-huei, Taipei
Chinese Nationalist Party (KMT) vice presidential candidate Jennifer Wang (王如玄) said that legislative efficiency needs to be improved, adding that she realized how much passing a bill can help people's lives when she was promoting gender equality legislation.
Although a mechanism for the legislature to reflect public opinion is important, holding elections every year is a social cost not all people would be willing to pay, she said.
Democratic Progressive Party (DPP) vice presidential candidate Chen Chien-jen (陳建仁) said that the KMT holding the majority of legislative seats is the biggest obstacle to legislative reform, because the legislature has not only failed to pass reform bills, but has also remained weak in questioning the government and often reviews bills carelessly.
He said holding an election every year would pose a difficult constitutional problem, but the DPP welcomes diverse opinions on constitutional amendment.
The second question asked whether the candidates had a specific foreign policy plan for the East African Federation and how Taiwan should use its soft power.
Wang said the Ministry of Foreign Affairs is paying close attention to the issue and that the nation has very strong diplomatic soft power in agricultural and medical fields, as well as job training.
Citing her experiences of visiting Burkina Faso twice, Wang said education is crucial to change the fate of a family, so the KMT would not implement a policy of cash-for-friendship, but would continue to help other nations.
Chen said the DPP would promote a new foreign policy that would integrate various advantages of Taiwan's soft power, including medical and humanitarian aid, agricultural technology, job training and education, with "practical participation" being the guiding principle.
"Our nation's soft power not only includes music, art, culture and delicious food, but also religion, humanitarian aid, medicine and agriculture," Hsu said.
Hsu said that economic relations and trade with other nations must be expanded, and that the nation should help small and medium-sized firms collect market information and establish marketing channels in other nations.
The third question was whether the Minister of Culture should be elected in a different way, because the public is disappointed with the ministry receiving funding for projects supported by lawmakers.
Chen said the KMT's cultural policies are made top-down, but the DPP would allow cultural policies to be guided by cultural professionals, and would not allow cultural budgets to become political rewards.
"Culture is a nation's most important soft power … and the DPP has already announced its comprehensive cultural policies, including a cultural basic act to protect cultural diversity and support innovation," he said.
Hsu said having the right person for the job is the most important thing, adding that "our nation needs good leadership to spread our culture."
Wang said it is crucial for the government to establish a unified review standard for granting funds through a transparent procedure monitored by the public.
The fourth question was about how the candidates plan to solve the problem of major transportation projects often being delayed and often needing additional budget; and if they agree that civil service personnel in charge of such projects should be held responsible even if they resign from their posts.
All three candidates agreed that civil service personnel should be responsible for delayed projects.
"First, choose the right person, then do things right," Hsu said, adding that the problem lies in leadership. She said that when Soong was Taiwan's provincial governor, 12 freeways and several provincial highways were completed on time.
Wang said the public cannot endure projects that are delayed due to bad planning, while Chen said the reason for many delayed projects lies in leaders lacking executive abilities.
The fifth question asked who can decide Taiwan's future and pass judgement on major issues on national defense and foreign and economic policies, and whether the candidates agree that Taiwanese can enforce their right to self-determination.
Wang said the KMT agrees that, according to the Constitution, the future of Taiwan or changing the nation's status should be decided by Taiwanese.
She said that legislative reform is an important political view of the KMT, and the party has asked its legislative candidates to sign a petition to support it.
"Self-determination is the people's basic right," Chen said, adding that a referendum is a legal remedy because representative democracy has its shortcoming.
However, with the KMT holding on to the majority of legislative seats, more than 100 referendum proposals were blocked, and the Referendum Act (公民投票法) has a high threshold for proposals to be passed, so improvement is needed, he added.
Hsu said the question shows the public does not trust the nation's leader, but the public's right to self-determination needs new legislators to actively work on passing related laws.
The last question asked whether legislators should be prohibited from engaging in investment or other jobs, and whether a lawmaker should lose their seat if they have an attendance rate lower than 66 percent in three months.
Chen said he believes that "politics is a vocation of serving, not profiteering" and the DPP agrees that lawmaking should be a full-time job, and that the Legislative Yuan should provide professional assistance to improve the quality of lawmakers so that they can monitor the government effectively.
Hsu said she had gave up her job as a teacher since she was elected as a legislator, and that she believes in choosing the right person before doing the right thing.
"Lawmaking certainly should be a full-time job," Wang said, adding that lawmakers' participation in legislative discussions should be monitored.
Comments will be moderated. Keep comments relevant to the article. Remarks containing abusive and obscene language, personal attacks of any kind or promotion will be removed and the user banned. Final decision will be at the discretion of the Taipei Times.