Air pollution hits critical levels
'TOO GENEROUS': The EPA's standards aimed at limiting the emission of harmful gases are only a fraction of international levels, a professor said
Environmentalists yesterday said the entire nation, except for Hualien and Taitung, has met the conditions for an air pollution control area, due to excessive levels of fine particulate matter measuring under 25 micrometers (PM2.5), which they said would only abate with the phasing out of coal and diesel trucks.
On a panel discussion at the Legislative Yuan on controlling PM2.5 concentrations in the air, Taiwan Healthy Air Action Alliance founder Yeh Guang-peng (葉光芃) said that apart from Hualien and Taitung, all cities and counties in the nation have had excessive PM2.5 levels for three consecutive years, which qualify them to be designated as class-three air pollution control zones — in which air pollution is most severe according to the Environmental Protection Administration's (EPA) three-class category.
"Residents of central and southern Taiwan are to launch a large-scale anti-air-pollution protest in Taipei on Saturday next week to fight for the next generation, as our generation has left our children a polluted environment," Yeh said.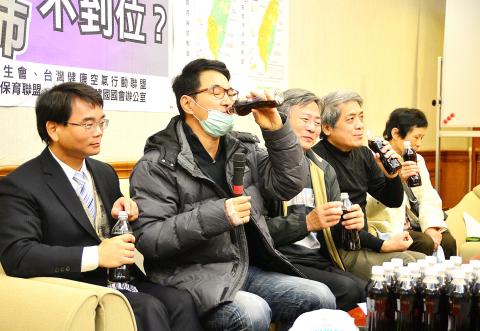 Democratic Progressive Party Legislator Liu Chien-kuo drinks a beverage symbolizing the average amount of daily PM2.5 intake during a press conference in Taipei yesterday.
Photo: Wang Yi-sung, Taipei Times
National Taiwan University professor Chan Chang-chuan (詹長權) said that people living in Taichung or further south breathe air that is two to four times dirtier than the air in Taipei, which is caused by coal-burning industries scattered across central and southern areas.
"The EPA's emissions standards are too generous, as the maximum emission limits for sulfur dioxide and nitrogen dioxide are three times higher than international standards. Vehicle emission limits should also be substantially lowered. Diesel trucks and two-stroke scooters should be among the first to be banned," Chan said.
The panel cited PM2.5 emission estimations by National Chung Hsing University professor Tsuang Ben-jei (莊秉潔), who said that the nation's top three PM2.5 emitters are Formosa Plastics Group's naphtha cracker in Yunlin, the Kaohsiung-based China Steel Corp and Taiwan Power Co's Taichung Power Plant, which emitted 142,392 tonnes, 60,920 tonnes and 60,548 tonnes of PM2.5 in 2007 respectively.
Show Chwan Memorial Hospital thoracic surgeon Huang Chung-chieh (黃重傑) bowed and apologized to the panel's attendees, saying that doctors had been absent in the fight against air pollution.
Smokers have accounted for less than half of lung cancer patients, while the lung cancer occurrence rate among non-smoking women has been increasing, suggesting that air pollution has played a part in causing cancer, Huang said.
The EPA's Department of Air Quality and Noise Control Director Chen Hsien-heng (陳咸亨) said that the Executive Yuan this year approved the nation's first five-year clean-air program and that the government stands with the public in combating air pollution.
A China Steel representative said that the company emitted only 1,599 tonnes of PM2.5 in 2007, while it already has PM2.5 control measures in place, such as improving the energy efficiency of facilities and installing dust collectors.
Comments will be moderated. Keep comments relevant to the article. Remarks containing abusive and obscene language, personal attacks of any kind or promotion will be removed and the user banned. Final decision will be at the discretion of the Taipei Times.