Doctors protest pollution, cite cancer link
A dozen doctors yesterday rallied in front of the Presidential Office Building in Taipei to protest against air pollution, saying that pollution has increased people's risk of developing lung cancer and other chronic diseases, demanding that the government reduce pollution and investigate the health effects of air pollution.
The protest was the latest in a series of demonstrations against air pollution in central and southern municipalities amid surges in PM2.5 — fine particulate matter measuring 25 micrometers or less — levels since October.
Changhua Medical Alliance standing director Lee Wu-po (李武波) said that the WHO has declared air pollution a leading environmental cause of cancer deaths, but that the Ministry of Health and Welfare has ignored the associated health risk of air pollution and simply linked increased cancer rates to genetic causes. Lee called on the ministry to recognize the carcinogenicity of air pollution and establish relevant public health measures.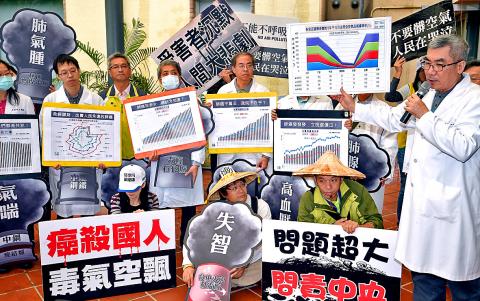 Changhua Medical Alliance standing director Lee Wu-po, right, and fellow health campaigners hold signs illustrating the problems of air pollution and the links to lung cancer in Taipei yesterday.
Photo: Chu Pei-hsiung, Taipei Times
"I can choose not to consume tainted oil products or even choose to buy olive oil imported from Italy, but you cannot buy air," he said. "You have to breathe the air every day, no matter if you are rich or poor … so this is more serious and important than food safety."
Pediatrician Chang Chian Hsiao-yun (張簡曉芸) said the occurrence of allergic asthma among children has doubled over the past two decades, with 20 percent of children suffering from the disease.
Adenocarcinoma of the lung — one of the most common types of lung cancer — is closely related to air pollution and is responsible for 75 percent of female lung cancer patients in Taiwan, while the disease accounts for less than 30 percent of female patients in Europe and the US, suggesting pollution increases the risk of such cancer, Chang Chian said.
Thoracic surgeon Yeh Yi-che (葉宜哲) said the Taichung Power Plant and Mailiao Power Plant in Yunlin County are the largest sources of pollution in central Taiwan, accounting for 70 percent of local pollution.
Replacing coal with natural gas at the power plants could drastically reduce pollutant emissions, as the sulphur oxides emitted by the Tunghsiao Power Plant in Miaoli County decreased from 20,000 tonnes in 1997 to 7.8 tonnes in 2010 since the plant shifted from burning coal to natural gas, Yeh said.
Every 5 micrograms per cubic meter increase in PM2.5 is associated with an 18 percent increased risk of developing cancer, according to a longitudinal research published by the academic journal The Lancet in 2013, following 312,944 people in 17 European nations over 12 years, Yeh said.
The protesters called for the phasing out of burning coal and petroleum coke, increased energy conservation efforts, renewable energy development and the establishment of pollution-related healthcare and disease prevention measures.
They also urged presidential candidates to speak about their proposals to tackle the issue of pollution, and called on members of the public who are concerned about such issues to join them in a demonstration parade scheduled to take place on Dec. 26 at Ketagalan Boulevard in Taipei.
Additional reporting by Lee I-chia
Comments will be moderated. Keep comments relevant to the article. Remarks containing abusive and obscene language, personal attacks of any kind or promotion will be removed and the user banned. Final decision will be at the discretion of the Taipei Times.