Protests target Taichung science park and TSMC
SHAM SORRY: Environmentalist Yeh Guang-peng gave a mock apology on behalf of Taichung Mayor Lin Chia-lung, saying that Lin had not fulfilled a clean-air vow
Protesters yesterday staged a demonstration at the Central Taiwan Science Park in Taichung, demanding the immediate suspension of an expansion project for the park, which they said would aggravate air pollution and pose greater health risks.
Protesters and 41 environmental groups called for the suspension of the project and an overhaul of national development policies, saying that more than 20 percent of the nation's science parks and industrial zones are underutilized, with the government not making good use of idle plots while rezoning a forest for the Taichung science park expansion.
The expansion was mainly based on a Taiwan Semiconductor Manufacturing Co (TSMC) project to build an 18-inch wafer plant on Dadu Mountain in Situn (西屯) and Daya (大雅) districts, with the plan passing an environmental impact assessment in February.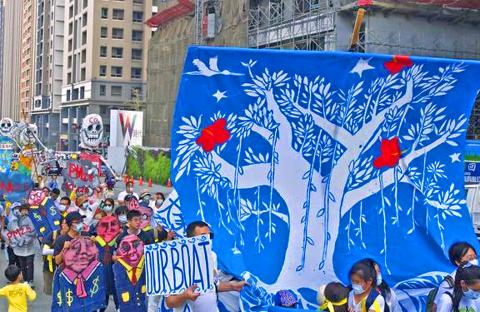 People hold up an image of a tree at a protest in Taichung yesterday.
Photo: Tsai Shu-yuan, Taipei Times
Taichung-based environmentalist Tsai Chih-hao (蔡智豪) said the TSMC plan did not assess health risks in association with many carcinogenic pollutants, calling for an end to construction until proper assessments are completed.
Tsai demanded an apology from Taichung Mayor Lin Chia-lung (林佳龍) for Lin's part in soliciting TSMC investment, which Tsai said put city residents at risk of pollution-related illness, adding that the number of adenocarcinomas of the lung — a major type of lung cancer — in the area has risen to become the highest rate in the nation due to the city's deteriorating air quality.
Impersonating the mayor, Taiwan Healthy Air Action Alliance founder Yeh Guang-peng (葉光芃) delivered a mock apology, saying that Lin in 2012 pledged to remove highly polluting and energy-intensive industries from the city to reduce air pollution and bring back blue skies.
Instead of blue sky, PM2.5 — airborne pollutants measuring 25 micrometers or less in diameter — is Lin's legacy, Yeh said.
Taichung Veterans General Hospital respiratory physician Hsu Cheng-yuan (許正園) said each 10 microgram per cubic meter rise in PM2.5 is associated with an 8 percent increased risk of lung cancer morbidity, which, in terms of the population of Taichung, could lead to 220,000 residents being affected by the disease.
In a letter to TSMC chairman Morris Chang (張忠謀), who on Thursday said that power shortages and protests from environmentalists were the two major uncertainties for future investment in Taiwan, protesters said government-subsidized electricity for industrial development has cost the nation its environment and health, while residents and even TSMC employees, in addition to environmentalists, were among the protesters.
TSMC contributes to the condition of the sky and poisonous air in central Taiwan, the letter said.
Clean rooms in the company's factories might be the only place where people could breathe clean air, it said, calling on the company to fulfill its corporate responsibility.
Protesters said they would be collecting signatures to launch a referendum on whether the expansion project should be discontinued.
Comments will be moderated. Keep comments relevant to the article. Remarks containing abusive and obscene language, personal attacks of any kind or promotion will be removed and the user banned. Final decision will be at the discretion of the Taipei Times.