James Soong opens PFP campaign office
People First Party (PFP) presidential candidate James Soong (宋楚瑜) opened his campaign headquarters in Taipei yesterday with a rally, with the former Taiwan Province governor labeling the current government as "incompetent," adding that government policies pander to the interests of business conglomerates, while most people suffer under economic stagnation.
Soong's running mate Hsu Hsin-ying (徐欣瑩), in wrapping up the rally with a speech outlining the party's vision for the nation, promised to deliver hope and a brighter future to the people.
With political pep talks and slogans such as "Let's Win Taiwan Back," the joint cross-party ticket had over 10,000 banner-waving supporters, many of them wearing PFP-orange caps, or white caps with the yellow emblem of the Republican Party. There was also a prominent display of the Republic of China (ROC) national flag.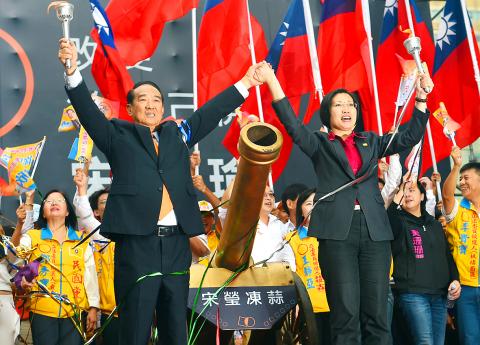 People First Party presdiential candidate James Soong, left, and his running mate Republican Party Chairwoman Hsu Hsin-ying raise their hands together at the launch of their campaign headquarters in Taipei yesterday.
Photo: Chang Chia-ming, Taipei Times
The main campaign office for the Soong-Hsu ticket, at the intersection of Jinan Road and Xinsheng S roads in Taipei, officially opened yesterday, while the rally was several blocks away, on Jinan Road next to the legislature.
The party's campaign logo was unveiled, with an orange circle converging with a tilted square, with its intersecting form resembling an idealized outline of Taiwan.
Taipei Mayor Ko Wen-je (柯文哲) visited the campaign office in the morning, lunching with Soong and hosting a private meeting.
Although Ko avoided reporter questions from reporters, speculation is that Ko is supporting Soong in the presidential election.
"We are old friends. It is normal to visit each other once in a while. We can also exchange our views on Taiwan's political scene," Ko said.
Soong said in his speech that; "Ma [President Ma Ying-jeou (馬英九)] has failed the people, with many medium and small enterprises going out of business, the middle-class being squeezed out and the young generation given no hope for the future, because they cannot find work or toil in low-paying jobs. Many of them cannot afford rent and the rising living costs."
"If I am elected, then get only a 9 percent approval rating, I would resign. When the citizens do not trust the government, how can it continue its rule?" he said.
"We have an incompetent government, and it is time to vote them out of office," Soong said.
"If I am elected, we will have a better future. I will return the nation to its core values of liberty and democracy. Together we can bring confidence and respect back to Taiwanese," he said.
Soong also said that "Taiwan's future must be decided by Taiwanese," and "Taiwan is our mother homeland, we are all in a big Taiwanese family," and added that he would defend and preserve the Constitution and the sovereignty of the ROC.
Soong has worked with, and allegedly had close ties with, the late KMT president Chiang Ching-kuo (蔣經國).
Soong called for "a middle road" on a cross-strait relationship with China, by avoiding both unification and independence, adding that he can end the political wrangling between central and local governments, while saying that if elected, he and Hsu would make annual "State of the Nation" reports at the Legislature, to present the year's fiscal budget and results of government implemented programs.
Comments will be moderated. Keep comments relevant to the article. Remarks containing abusive and obscene language, personal attacks of any kind or promotion will be removed and the user banned. Final decision will be at the discretion of the Taipei Times.