KMT caucus claims US favors Chu
The Chinese Nationalist Party (KMT) caucus yesterday said that remarks made by former American Institute in Taiwan (AIT) chairman Richard Bush on the sidelines of a closed-door seminar between KMT presidential candidate Eric Chu (朱立倫) and dozens of US academics in Washington on Friday was suggestive of US support for the KMT chairman.
KMT Legislator Lin Yu-fang (林郁方) said Bush's remarks that the US valued the cross-strait developments under President Ma Ying-jeou's (馬英九) administration since 2008 and that it would like to see it continued was what the US had been wanting to say, but could not.
"This bodes ill for Democratic Progressive Party (DPP) presidential candidate Tsai Ing-wen (蔡英文), as in the US' mind, the KMT and the DPP have already been graded based on their cross-strait policies," Lin said.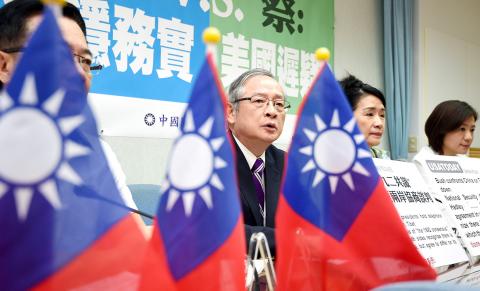 Chinese Nationalist Party (KMT) Legislator Lin Yu-fang, center, addresses a press conference in Taipei yesterday, discussing KMT presidential candidate Eric Chu's recent visit to the US.
Photo: Lo Pei-der, Taipei Times
Lin said Bush's remark that "What people say during elections might vastly differ from what they say after becoming policymakers. To me, that is where the problems lie," was disguised criticism of former president Chen Shui-bian (陳水扁) and the DPP's cross-strait policies.
KMT Lawmaker Alex Tsai (蔡正元) said that DPP presidential candidate Tsai Ing-wen (蔡英文) claimed her objective for cross-strait ties is to maintain the "status quo," but she has refused to explain her methods for achieving that goal.
"Bush has publicly challenged Tsai Ing-wen's 'status quo' policy. What would the consequences be if the DPP chairperson pursues a cross-strait policy different from that of Ma? She has yet to comment on that issue," he said.
Chu arrived back in Taiwan early yesterday after a week-long visit to the US as part of his presidential campaign.
He left Taiwan on Tuesday last week for meetings with US officials, including Deputy US Secretary of State Antony Blinken and academics, as well as Taiwanese expatriates in Los Angeles, Washington, New York and San Francisco.
Soon after his return, Chu is expected to name his running mate.
A report by the Chinese-language United Daily News yesterday said that the KMT is likely to put Legislative Speaker Wang Jin-pyng (王金平), a veteran lawmaker and president of the legislature, on the top of the party's list of legislator-at-large nominees.
Additional reporting by CNA
Comments will be moderated. Keep comments relevant to the article. Remarks containing abusive and obscene language, personal attacks of any kind or promotion will be removed and the user banned. Final decision will be at the discretion of the Taipei Times.