Ministry to aid UNESCO bid for caves
HERITAGE: Legislator Liu Chao-hao said that the cave system where a Paleolithic pottery culture was found has the potential to be made a world heritage site
Minister of Culture Hung Meng-chi (洪孟啟) on Monday promised the Taitung County Government that the ministry would assist in efforts to have the Basiandong Historical Site (caves of eight deities, 八仙洞遺址) listed as a potential world heritage site.
Basiandong, on cliffs facing the Pacific Ocean in Changbin Township (長濱), is made up of dozens of natural sea caves that are the result of erosion carving out softer rock.
They are scattered among 150m-tall cliffs that were pushed up due to the upward motion of the Earth's crust in the area.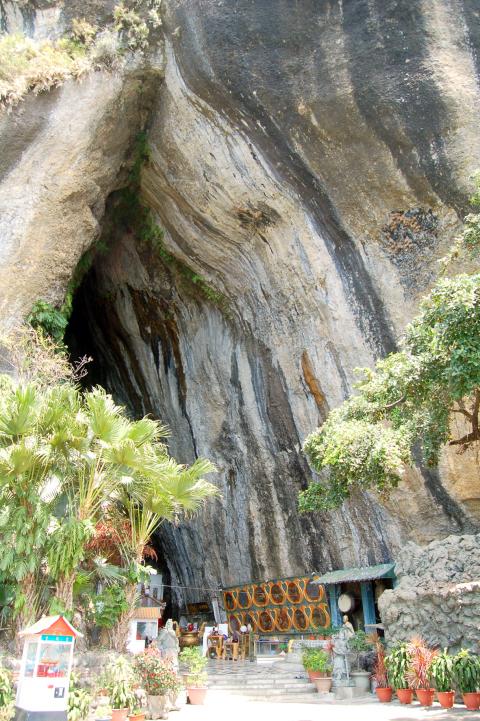 The entrance to Basiandong Historical Site, or the caves of eight deities, is pictured on Monday in Taitung.
Photo: Huang Ming-tang, Taipei Times
In 1968, geologists and archeologists discovered in the caves evidence of a Paleolithic pottery culture — which was later named the Changbin Culture — the Taitung Bureau of Cultural Heritage said.
Basiandong is the oldest prehistoric site to have been found in Taiwan, with researchers saying it dates back to 30,000 years ago, and it has been designated a national heritage site.
Democratic Progressive Party Legislator Liu Chao-hao (劉櫂豪) said at the legislature that Basiandong has the potential to become a world heritage site.
Liu asked the ministry to help facilitate the process by adding the site to a list of 18 potential world heritage sites in Taiwan, which includes Fort San Domingo in New Taipei City's Tamsui District (淡水).
If Basiandong is added to the list, it will be the third potential world heritage site in the county, after the Peinan Archeological Site in Beinan Township (卑南) — the largest-known ancient stone coffin burial ground in the Pacific Rim area — and Orchid Island (蘭嶼, also known as Lanyu).
The government is continuing to promote Taiwan's cultural and natural assets to earn "world heritage" status, which refers to sites, groups of buildings, monuments and natural environments of outstanding universal value listed on the UNESCO World Heritage List, the bureau said.
The Taitung County Government has to submit an application to the bureau for review as the first step in its bid to get Basiandong on the UNESCO list.
Comments will be moderated. Keep comments relevant to the article. Remarks containing abusive and obscene language, personal attacks of any kind or promotion will be removed and the user banned. Final decision will be at the discretion of the Taipei Times.