MA-XI MEETING: Reporter's Notebook: Ma sells out Taiwanese to secure his place in history
President Ma Ying-jeou (馬英九), who has expressed in public many times his wish to meet Chinese President Xi Jinping (習近平), finally saw his dream come true on Saturday in Singapore, where a beaming Ma exchanged a historic handshake with the Chinese leader before a phalanx of international media.
While the Ma-Xi meeting has Ma basking in the global limelight, Ma's attendance at the summit brought no benefits for Taiwan or Taiwanese. As a matter of fact, the Ma-Xi meeting only ended up degrading Taiwan's international standing by trapping it in China's "one China" framework (一中框架).
There were apparent efforts to present the meeting venue as politically neutral — neither Republic of China (ROC) nor People's Republic of China flags were displayed at the Shangri-La Hotel. However, Xi made up for this apparent lack of nationalism by clearly reiterating China's unwavering commitment to the "one China" principle from the get-go.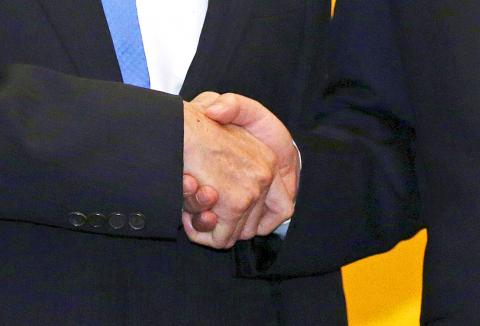 Chinese President Xi Jinping, right, shakes hands with Taiwan`s President Ma Ying-jeou during a summit in Singapor on Saturday.
Photo: Reuters
China's will to impose its sovereignty was clearly evident in Xi's repeated statements that both sides of the Taiwan Strait "belong to the same 'one China.'"
Ma failed to offer any opposition to this: Ma mentioned the so-called "1992 consensus" during their meeting, but only said that it was subject to the "one China" principle, neglecting to mention the "different interpretations" component.
The "1992 consensus" refers to a supposed understanding reached during the cross-strait talks in 1992 that both Taiwan and China acknowledge that there is "one China," with each side having its own interpretation of what that means.
For his part, Xi was unmistakably clear on China's interpretation of the "understanding," saying that "the importance of the '1992 consensus' is that it reflects the 'one China' principle and clearly states that cross-strait relations are not 'state-to-state' relations involving 'one China, one Taiwan.'"
"The peaceful development in cross-strait relations over the past seven years is predicated on both sides of the Taiwan Strait establishing a common political foundation for the upholding of the '1992 consensus' and opposition to Taiwanese independence," Xi said. "The forces seeking Taiwanese independence are the real threat to cross-strait peace and compatriots on both sides of the strait must unite and firmly oppose them."
Xi also repeatedly said that "people on both sides of the Strait are Zhonghua minzu [Chinese ethnic group, 中華民族] and are all yan huang zisun [炎黃子孫 or descendants of emperors Yan and Huang], who should join hands to reinvigorate the Chinese [community]."
It is astonishing that Ma could sit through this type of rhetoric without voicing any objection to Xi's statements, that marginalize the standing of the ROC and interfere with the Taiwanese right to self-determination.
In case Ma needs reminding, during his presidential campaign he told the public that "the future of Taiwan should of course be set by its 23 million people."
However, on Saturday Ma played second fiddle to Xi, saying that the ROC Constitution does not allow "two Chinas, one China one Taiwan, nor Taiwanese independence."
Ma added that he shares Xi's view that it was mainly due to the "1992 consensus" that cross-strait relations have been able to "make tremendous progress over the past seven years," and that he believed if any future president can promote the "1992 consensus" in the same way, "the 'status quo' will be maintained and continue to move forward."
Having constructed his entire cross-strait policy on a fabricated consensus, Ma's latest version of this mythic understanding not only places the ROC withing a "one China" framework conceived by Beijing, but is also an obvious attempt to limit the cross-strait options of Democratic Progressive Party (DPP) presidential candidate Tsai Ing-wen (蔡英文), should she win the presidential election in January.
Ma claims he is working to "improve cross-strait relations." However, if this improvement brings about the loss of Taiwan's right to self-determination then it is something Taiwanese must oppose.
What Ma trumpets as his cross-strait achievement in reaching a consensus with Xi on "upholding the '1992 consensus'" is at best a Pyrrhic victory for Taiwan and at worst a humiliating diplomatic defeat.
Ma might have satisfied his desire to salvage some sort of legacy by attaining a meeting with Xi; however, his success is a catastrophe for Taiwan, and his endorsement of Beijing's "one China" was made without the consent of Taiwanese.
Comments will be moderated. Keep comments relevant to the article. Remarks containing abusive and obscene language, personal attacks of any kind or promotion will be removed and the user banned. Final decision will be at the discretion of the Taipei Times.