Campaigners appeal for air quality improvements
GAS MASK: As autumn winds blow health-damaging pollution across the nation, groups have called upon the government to take action against local industries
Members of the arts and humanities community, along with parents and children in Halloween costumes, made an appeal in front of the Presidential Office Building yesterday for the government to implement air purification measures.
"We hope the government will put into action measures that would allow our future to be realized in an environment with clean air," organizers Ko I-chen (柯一正) and Wang Hsiao-ti (王小棣) said.
Wearing a homemade gas mask, a child from Yunlin County, Lin Hsiao-chuan (林小川), said he wanted to tell President Ma Ying-jeou (馬英九) not to allow the construction of more factories and to stop the expansion of existing factories.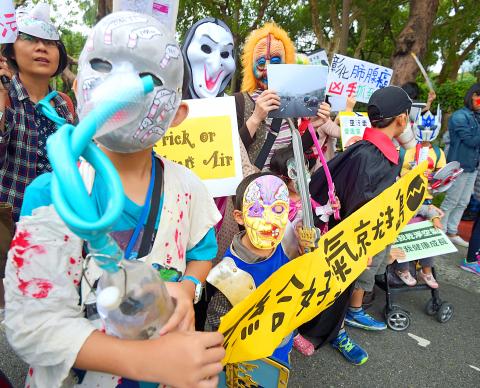 Children and adults parade in Halloween costumes and hold up signs that read "trick or clean air" in Taipei yesterday.
Photo: Wang Min-wei, Taipei Times
"It is easy to see that there is severe air pollution because the mountaintops are covered in smog," Lin said.
Lin added that he hoped Ma would give an executive order for all factories to install purifiers in chimneys to ease air pollution.
A child from Changhua County, Yang Tsu-ching (楊子慶), said he wanted fresh air so he could grow up healthy.
Yang said he could smell odd odors when he was at home and he was often sick, adding that he often coughed up phlegm.
Yang also performed a song that he wrote to express wishes to protect his right to clean air.
Ko, with a homemade gas mask, said that in recent days the air quality has been extremely bad, adding that it has become a trend over the past few years that air quality plummets in autumn.
The government should fix the problem once and for all, Ko said.
Wang added that the public should be more wary of the issue rather than thinking that it has nothing to do with them.
Public Television Service (PTS) show host Chen Hsin-tsung (陳信璁) also attended the event, saying the government should not make the younger generation suffer the effects of air pollution.
"The government should not blame everything on China and say that it cannot implement air quality controls," he said.
Event organizers said they not only sent their petition into the Presidential Office, but also to all presidential and legislative candidates.
"We should all work together and be willing to work toward cleaning the air," they said.
The Environmental Protection Administration yesterday said central and southern Taiwan would continue to see poor air quality over the weekend, as there is no wind blowing.
Southern municipalities and counties could be the hardest hit, with the key indicator of fine particulate matter smaller than 2.5 micrometers (PM2.5) expected to hit the hazardous level 8 yesterday.
The agency said both central and southern Taiwan would see level 7 pollution today, but air quality should be fair in northern Taiwan, where rain is forecast.
A level 10 pollution reading indicates that PM2.5 concentrations exceed 72 micrograms per cubic meter and are considered extremely high, but readings above level 7 are deemed severe enough to cause physical discomfort and health problems, the agency said.
The agency advised elderly people living in affected areas, and those with lung or heart problems, a persistent cough or discomfort around the eyes, to avoid outdoor activities, adding that people with asthma might also need to use their inhalers more often.
Additional reporting by CNA
Comments will be moderated. Keep comments relevant to the article. Remarks containing abusive and obscene language, personal attacks of any kind or promotion will be removed and the user banned. Final decision will be at the discretion of the Taipei Times.