Taipei 101 hit by another drone, police investigate
DAMAGE: Window cleaners are searching for any damage caused by a drone that hit the Taipei 101, while police review video footage from the drone
Another aerial photography drone crashed into Taipei 101 on Tuesday, further highlighting the dangers that drones pose to public security and privacy.
Since the screening of documentary film Beyond Beauty — Taiwan From Above (看見台灣) many people have purchased photography drones and sought to replicate the scenery in the film.
However, this year Taipei 101 has seen drones hit the building on June 15, June 20 and July 21, Taipei 101 spokesperson Liu Chia-hao (劉家豪) said yesterday, adding that one of the drones dropped within 2m of a pedestrian walking near the building.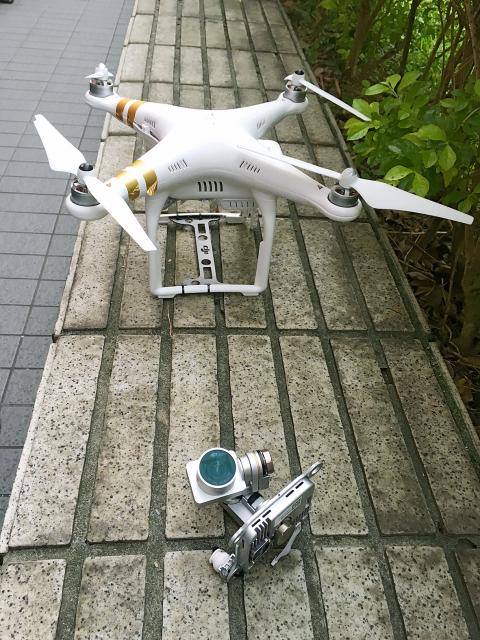 A drone lies on the ground outside Taipei 101 after colliding with the building.
Photo: Yao Yueh-hung, Taipei Times
A Taichung resident surnamed Tsai (蔡) is the owner of the drone that hit the skyscraper on Tuesday
Tsai said he had been using the drone while visiting Taipei.
The pedestrian was unharmed and the incident was reported to the police, Liu said, adding that there was concern over a lack of regulations for drones.
The wreckage of the drone was found on both the first floor and the balcony of the 82nd floor, indicating that the drone was flying at least as high as the 82nd floor, Liu said.
The broken pieces have been sent to the Taipei City Police Department to establish if the two parts belong to the same drone, Liu said.
Taipei 101's management is not authorized to view the footage stored inside the drone and must wait for police to conclude investigations before learning which level of the building the drone had crashed into and whether it caused any damage, Liu said.
In the meantime, the building is also searching for potential damage via its window cleaning crews, Liu said, adding that the footage recovered from the drone would greatly help narrow the search area.
Subsequent action depends on the police investigation and if the building has been damaged, Liu said.
The Aviation Police Bureau said that it would watch any footage after the Taipei City Police Department has concluded its investigations, adding that it would look for any violations of regulations of civic-use aircraft and leave the Taipei City Police Department to determine criminal liabilities.
The department said that according to Article 118 of the Civil Aviation Act (民用航空法), owners of pigeons or flight-capable craft that might interfere with aviation safety could be fined from NT$300,000 to NT$1.5 million (US$9,131 to US$45,653).
The departments said owners of aerial photography drones need to be careful where they are using drones to avoid fines.
Comments will be moderated. Keep comments relevant to the article. Remarks containing abusive and obscene language, personal attacks of any kind or promotion will be removed and the user banned. Final decision will be at the discretion of the Taipei Times.