Students invent and market African-inspired wooden musical instruments
Two students from Kunshan University have set up a promotional storefront for their company, Wood Song, in the Tua-Bak-Kang Cultural Park in Tainan's Sinhua District (新化), which offers their original African-inspired musical instruments and lessons.
Chen Chih-hsuan (陳志軒) and Wang Cheng-hao (王承皓), both visual communication design students, said they founded the musical instrument business together to sell their wind-and-string inventions, which are inspired by traditional African instruments and made with Taiwanese woods.
The products include the Wood Song flute, Wine Bottle flute and the Wood Song zither, they added.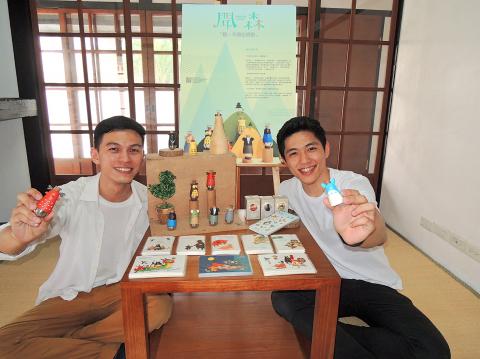 Chen Chih-hsuan, left, and Wang Cheng-hao, owners of Wood Song, hold up examples of their African-inspired musical instruments in Tainan on Monday.
Photo: Lin Meng-ting, Taipei Times
The name of the company reflects their passion to create visually appealing wooden objects with the musical qualities of instruments, Chen said.
For example, the Wood Song flute is an "improved African kazoo" that is "a blend of aesthetic appeal and practical utility," he said.
"A novice can learn how to play within one minute of picking it up, because it will produce music with a person's normal singing pitch," Chen said.
The Wood Song storefront is in a Japanese house that was originally a part of the dormitory complex in the Tua-Bak-Kang Cultural Park, which complements the appeal of the wooden instruments, Chen said.
"The DIY lessons are designed to familiarize people with the Wood Song flute," he said.
"We show them the basic concepts and principles of our products, sell peripheral merchandise, such as our postcards, and give live demonstrations on how to play the instruments," Chen said. "It is a great experience for the whole family."
Comments will be moderated. Keep comments relevant to the article. Remarks containing abusive and obscene language, personal attacks of any kind or promotion will be removed and the user banned. Final decision will be at the discretion of the Taipei Times.