MND releases biennial defense white paper
China has been upgrading its major weapons systems and building up the People's Liberation Army (PLA) as part of its goal to have a strong enough fighting force to attack Taiwan by 2020, according to the Ministry of National Defense's (MND) 2015 National Defense Report released yesterday.
Despite improved relations and increased links between the two sides of the Taiwan Strait in recent years, the Chinese government still prepares for a cross-strait conflict and is enhancing the PLA's ability to conduct large-scale warfare and to deter foreign forces from intervening in any invasion, the biennal report said.
"China believes foreign interference would be its biggest concern if it attacks Taiwan," the report said.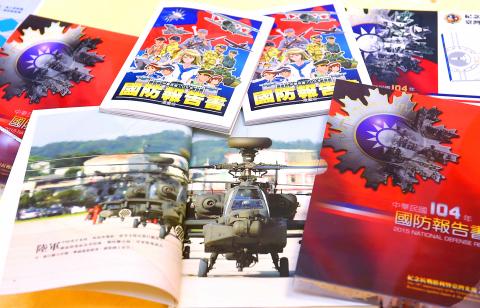 Copies of the Ministry of Defense's newly released 2015 National Defense Report and its comic book version are displayed in Taipei yesterday.
Photo: Chang Chia-ming, Taipei Times
Taiwan's armed forces would continue to bolster their defense capabilities and naval patrol missions to assert the nation's sovereignty over the Pratas Islands (Dongsha Islands, 東沙群島) and Itu Aba (Taiping Island, 太平島) in the South China Sea, both cited as potential conflict areas, the report said.
A robust military strength is needed in these South China Sea islands to buttress nation's territorial sovereignty and preserve its maritime rights and interests, along with maintaining freedom of navigation for transit passage in international waters, it said.
China's annual military budget has been growing by double-digit rates over the past decade, focusing on naval and air forces to project Chinese military power in the region, the report said.
Due to China's rapid weapons build-up and modernization of its combat capability, the cross-strait military imbalance is widening, causing concern in neighboring countries, the report said.
China has dramatically upgraded its early warning system, command and control operation, battleground reconnaissance, airplane and vessel navigation, communications encryption and precise striking capability, it said.
The PLA has also sped up the army's mechanization, upgraded its information technology and live fire drills, strengthened airborne transportation and strategic research and development, and now has a "triphibious" landing combat capability that could "seize the outlying islands" of Taiwan, the report said.
The report also questioned China's reported military spending, which it said was significantly understated.
Also covered in the report is the government's efforts to develop an all-volunteer military composed mainly of career professionals.
To help raise public awareness of the government efforts to maintain national security, the report's release was accompanied by a comic book version and a board game for youngsters, ministry spokesman Major General David Lo (羅紹和) said.
Additional reporting by CNA and AFP
Comments will be moderated. Keep comments relevant to the article. Remarks containing abusive and obscene language, personal attacks of any kind or promotion will be removed and the user banned. Final decision will be at the discretion of the Taipei Times.