Bureau needs to enhance tourism efforts: legislators
Lawmakers on the Legislative Yuan's Transportation Committee yesterday voiced concern that the nation has been over-reliant on revenue brought by Chinese tourists, saying that the Tourism Bureau needs to improve travel quality for all visitors and enhance its tourism campaigns.
The issue arose as committee members were scheduled to review the bureau's budget for the next fiscal year at yesterday's meeting.
Chinese Nationalist Party (KMT) Legislator Lo Shu-lei (羅淑蕾) said that mainland Chinese tourists accounted for 40 percent of total visitor numbers this year, up from 5 percent in 2008, while the percentage of visitors from Hong Kong and Macau dropped from 24 percent to 18 percent.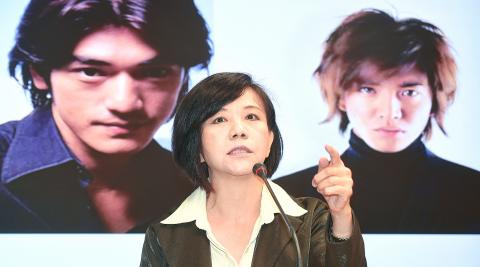 Democratic Progressive Party Legislator Yeh Yi-jin yesterday questions the Tourism Bureau's inviting of a Japanese actor to be the endorser of Taiwan's tourism industry at a meeting of the legislature's Transportation Committee in Taipei.
Photo: Liu Hsin-de, Taipei Times
Japan was once the nation's largest source of foreign tourists, but that market has declined from 38 percent to 15 percent, she said.
Southeast Asian tourist numbers have declined from 14 percent to 9 percent, she said.
However, there has been a rise in the number of South Korean visitors, which is estimated to increase by 24 percent this year.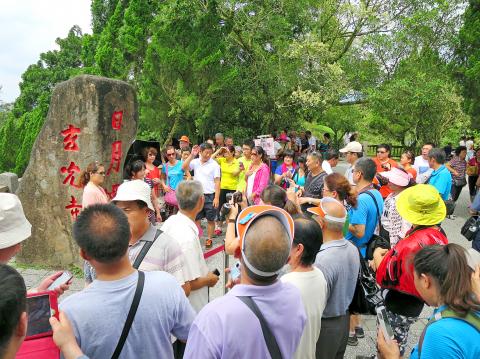 Chinese tourists take photographs at a landmark by the Sun Moon Lake in Nantou County on May 5.
Photo: Liu Pin-chuan, Taipei Times
Lo said the growth of the Chinese tourism market has been in response to changes in the political situation across the Taiwan Strait.
She said Taiwanese travel agents had been told by their Chinese counterparts that Beijing would reduce the number of visitors for about a month prior to the Jan. 16 presidential and legislative elections.
As the revenue generated by Chinese visitors accounts for 70 percent of the nation's tourism revenue, Lo asked the bureau how it planned to make up for the lost revenue.
Tourism Bureau Director General David Hsieh (謝謂君) said that China's reaction to the elections would not affect the goal that the bureau is trying to reach this year, as Chinese tourists applying for entry permits between Dec.16 and Jan.16 would not be able to come until next year.
However, the number of Chinese tourists is expected to decrease by 10 percent next year, he said.
Democratic Progressive Party (DPP) Legislator Chen Ou-po (陳歐珀) said that the average daily expenditure per international visitor has dropped from US$257.82 in 2011 to US$221.76 last year.
Even though 40 percent of the nation's foreign visitors are from China, Chen said their average daily expenses are far lower than those from Germany or Australia.
Chen criticized the bureau over its lack of creativity in tourism campaigns and for counting on Chinese tourists to reach its annual targets.
"You [the bureau] should stop acting like a weak daughter-in-law who always tries to please the evil mother-in-law [China]," Chen said.
DPP Legislator Yeh Yi-jin (葉宜津) said the bureau invited Taiwanese-Japanese actor Takeshi Kaneshiro (金城武) and Japanese actor Kimura Takuya to shoot tourism commercials, which highlighted the nation's food and friendliness of the people, but these have nothing to do with the bureau, but should be credited to Taiwanese as a whole.
DPP Legislator Lee Kun-tse (李昆澤) said Japan has attracted many tourists from Southeast Asia by offering visa waivers to 67 countries.
The same measure was adopted by South Korea, which has 113 countries in its visa-waiver program. Taiwan, on the other hand, only has about 40 countries.
He said the bureau should learn from Japan by expanding the number of places in which international tourists can file for tax refunds for purchased items.
Minister of Transportation and Communications Chen Jian-yu (陳建宇) said tourists from the Southeast Asian countries can apply for visas using easier procedures, which take effect on Nov. 1.
Comments will be moderated. Keep comments relevant to the article. Remarks containing abusive and obscene language, personal attacks of any kind or promotion will be removed and the user banned. Final decision will be at the discretion of the Taipei Times.