REPORTER'S NOTEBOOK: Eric Chu again called on to save the KMT's fortunes
Chinese Nationalist Party (KMT) Chairman Eric Chu (朱立倫) — who is known as a politician capable of saving the party from disaster — is once again being called upon to serve as the KMT's knight in shining armor.
Chu was selected as the KMT's presidential candidate at an extempore KMT congress on Saturday, replacing Deputy Legislative Speaker Hung Hsiu-chu (洪秀柱), whose candidacy was revoked earlier in the day by the congress.
Chu has enjoyed a smooth political career, and prior to Saturday he has on two separate occasions helped the party out in a big way; but whether his stepping up to the plate a third time will be enough to prop up the slowly sinking behemoth that is the KMT is another matter.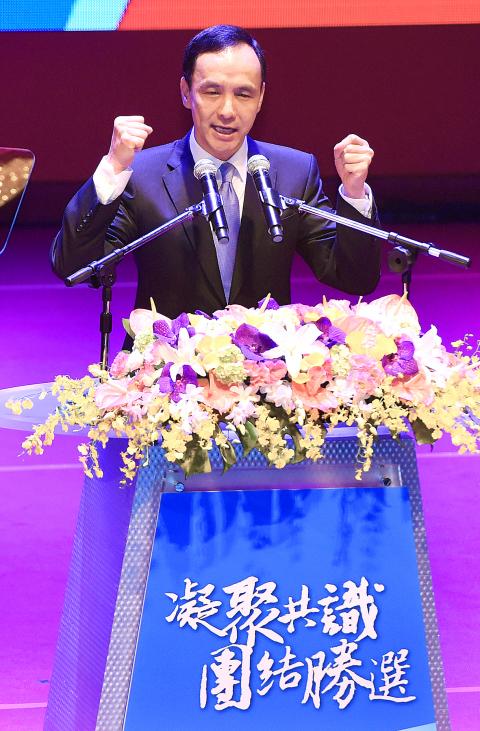 Chinese Nationalist Party (KMT) Chairman Eric Chu raises his fists at an extempore party congress in Taipei on Saturday, as delegates decided to nominate him as the KMT's presidential candidate in place of Hung Hsiu-chu.
Photo: Liao Chen-huei, Taipei Times
The first instance was in September 2009 when President Ma Ying-jeou's (馬英九) administration tapped Chu as vice premier after then-premier Liu Chao-hsuan (劉兆玄) and his Cabinet resigned to take responsibility for the government's response to Typhoon Morakot. Chu was then just three months into his second term as Taoyuan County commissioner.
The second instance was when Chu — less than a year into his tenure as the vice premier — was air-dropped by the party into then-Taipei County prior to the 2010 mayoral election, when the county was later that year slated to be upgraded into the special municipality of New Taipei City.
The KMT at the time pinned its hopes on Chu after various opinion polls showed then-Taipei County commissioner Chou Hsi-wei (周錫瑋) of the KMT would likely lose a bid for re-election.
This time around, Chu, less than 10 months into his second term as New Taipei City mayor, has again had to switch track, this time to become the party's presidential candidate.
In other words, he has been forced to go back on his word, having pledged that he would see out his full term as mayor. Chu's presidential bid means Chu is to face Democratic Progressive Party (DPP) presidential candidate Tsai Ing-wen (蔡英文) for the second time in an election; the first was in 2010 when the two ran for the New Taipei City mayorship.
Chu's greatest problem now is not how to rally the flagging spirits of the KMT, but rather how to convince the public that going back on his word is not indicative of his lack of political integrity.
After all, if Chu announces his resignation as New Taipei City mayor, the KMT would probably lose the only special municipality it controls — there is no reasonable way Chu could run for president while retaining the mayorship.
Although former vice president Annette Lu (呂秀蓮) of the DPP ran for vice president while still the Taoyuan County commissioner, the KMT would have a tough time selling the public on this one, as presidency and vice presidency entail very different levels of responsibility.
In addition, if Chu were to hang on as the mayor, it would be a silent admission that the KMT fear the consequence of him losing — the DPP would then control the presidency and all six special municipalities.
To make headway with KMT supporters under such circumstances, Chu must first convince Hung's supporters to back him and explain why the party replaced her as its candidate.
At the same time, he must embrace an "all or nothing" attitude, making clear to the public what responsibilities he would shoulder if the election results fall short of the KMT's expectations. Only by doing so will be able to fully convince KMT supporters that he can turn the situation around.
However, with such short time to prepare for the Jan. 16 elections, and faced with an astute DPP presidential candidate, all Chu can do is rally the morale of the KMT and hope that his last-minute preparations are going to be enough.
Translated by staff writer Jake Chung
Comments will be moderated. Keep comments relevant to the article. Remarks containing abusive and obscene language, personal attacks of any kind or promotion will be removed and the user banned. Final decision will be at the discretion of the Taipei Times.