SID to investigate KMT move to remove Hung
TRADEOFF? Opposition lawmakers filed complaints accusing the KMT of using financial and other incentives to convince Hung Hsiu-chu to quit the presidential race
The Special Investigation Division (SID) will conduct an investigation into possible violations of election laws by the Chinese Nationalist Party (KMT), amid allegations that it is pressuring presidential candidate Hung Hsiu-chu (洪秀柱) to withdraw from the race, Prosecutor-General Yen Ta-ho (顏大和) said yesterday
SID Director Kuo Wen-tung (郭文東) said that the division would open an official probe as soon as he receives notification from the prosecutor-general's office.
Yen said that in accordance with the Court Organic Act (法院組織法), the case falls under the purview of the SID, a division of the Supreme Prosecutors' Office.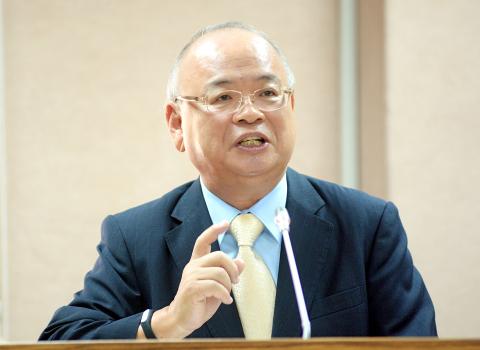 Prosecutor General Yen Ta-ho gestures as he speaks in the Legislative Yuan on Monday last week.
Photo: Wang Yi-sung, Taipei Times
Democratic Progressive Party Legislator Chen Ting-fei (陳亭妃) on Wednesday last week filed a complaint with the Supreme Prosecutors' Office accusing the KMT of contravening the Presidential and Vice Presidential Election and Recall Act (總統副總統選舉罷免法) by offering Hung financial incentives as a condition for withdrawing in favor of a new candidate to be nominated by the party.
Chen accused KMT Chairman Eric Chu (朱立倫) and party Secretary-General Lee Shu-chuan (李四川) of "politically scheming" to convince Hung to drop out by offering money, a post-election government position or other enticements.
Chen alleged that the KMT has violated Article 84 of the recall act, which stipulates that "anyone who asks for an expected promise or asks a candidate or a person having the qualifications of a candidate to abandon the campaign or conduct certain actions by offering bribes or other undue benefits" is punishable by law.
The following day, Taiwan Solidarity Union Legislator Chou Ni-an (周倪安) filed a similar complaint and asked the Supreme Prosecutors' Office to conduct a formal investigation.
Chou said that although Hung has not registered as a presidential candidate with the Central Election Commission, she has been officially nominated by the KMT national congress and completed all due procedure for party nomination, and thus should be considered "a person having the qualifications of a candidate" as stipulated in the law.
The KMT's Central Standing Committee on Wednesday last week decided to hold extempore party congress on Saturday to replace Hung.
Comments will be moderated. Keep comments relevant to the article. Remarks containing abusive and obscene language, personal attacks of any kind or promotion will be removed and the user banned. Final decision will be at the discretion of the Taipei Times.