Tour guide touts Taiwan in Japan
Taiwanese guide Hsieh Ming-huang (謝銘煌) has taken to using the nation's flag to guide groups of Taiwanese tourists in Japan, as he says it is a useful way to shepherd his charges and to promote the nation abroad.
A graduate of Okinawa University who lived in Japan prior to becoming a tour guide, Hsieh said that it is unusual to see Taiwan's national flag in Japan, and he brings at least one with him whenever he leads a tour.
For more than 17 years, Hsieh has led tour groups to many of Japan's most famous sites — such as Arashiyama in Kyoto, Otarushi in Hokkaido and many places in Tokyo — while waving the national flag.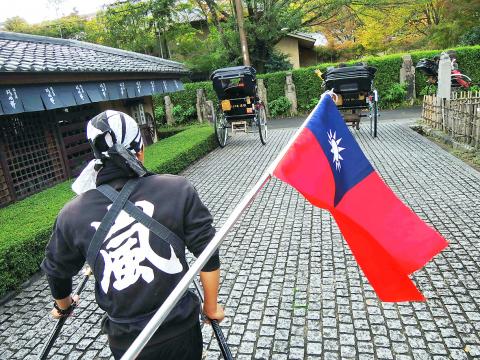 Taiwanese tour guide Hsieh Ming-huang's Republic of China flag flies from a rickshaw in Kyoto, Japan, in an undated photograph provided by Hsieh.
Photo copied by Huang Hsu-lei, Taipei Times
When people asked him what flag it was and if he had any spares, Hsieh said he does not hesitate to pull one out of his backpack and give it to them saying: "I am from Taiwan and this is our national flag."
He always has plenty of flags to give away, Hsieh said, adding that Chinese tourists have sometimes asked him if the flag is the party flag of the Chinese Nationalist Party (KMT).
Hsieh said he always replies that it is the Republic of China (ROC) flag.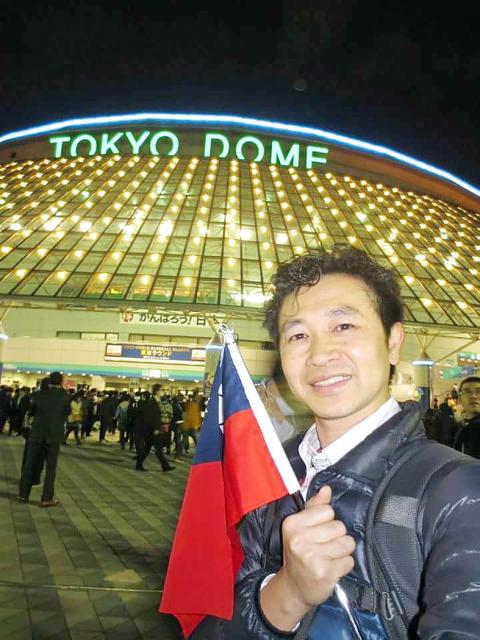 Taiwanese tour guide Hsieh Ming-huang holds a Republic of China flag while visiting the Tokyo Dome in March 2013.
Photo courtesy of Hsieh Ming-huang
The distinction between the ROC national flag and the KMT party flag is minimal and distinguished only by the size of the emblem.
Hsieh said that he was in Tokyo during a 2013 baseball match between Taiwan and Japan and cheered on the Taiwanese team by waving the national flag in the stadium.
The loss to Japan had been hard to swallow, Hsieh said, adding that all he could do at the time was to wave the flag harder.
As for the reason why he started using the national flag to lead the tour groups instead of flags issued by the tour agency, Hsieh said that the agency flags did not include the name "Taiwan" on the flags and were not unique.
"I wanted to stand out in the crowd and allow group members to find me easily, and to inspire pride," he said.
Many stores have asked him for a flag, Hsieh said, adding that they might also want to make Taiwanese tourists feel more at home.
Comments will be moderated. Keep comments relevant to the article. Remarks containing abusive and obscene language, personal attacks of any kind or promotion will be removed and the user banned. Final decision will be at the discretion of the Taipei Times.