REPORTER'S NOTEBOOK: Hung's radical China stance leaves KMT no choice
There was a time when the Chinese Nationalist Party (KMT) and President Ma Ying-jeou's (馬英九) administration could console themselves with at least one perceived advantage over the Democratic Progressive Party: their cross-strait policy.
That KMT presidential candidate Hung Hsiu-chu (洪秀柱) managed to squander even that advantage away explains why the KMT now appears it would stop at nothing to annul her candidacy.
The fundamental weakness of Hung's campaign is her radical pro-unification ideology, which has prompted the top echelons of the Presidential Office, the KMT and "elders" with the pan-blue camp to unite in calls for her to withdraw from the presidential race.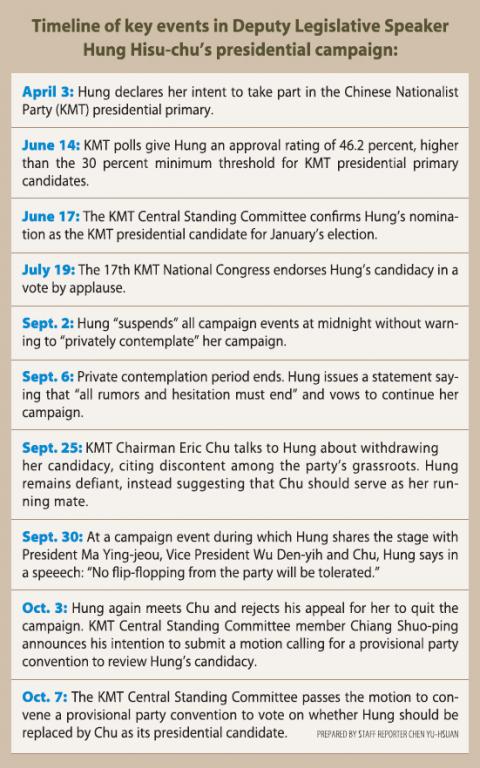 If she were allowed to continue, Hung's cross-strait platform — a mess for which Hung has only herself to blame — would doom not only her campaign, but also those of KMT legislative candidates.
A KMT rout from the legislature would be the kind of nightmare scenario in which the party's continued existence would not be guaranteed. Yet Hung apparently remains oblivious to the disaster she has created.
Therefore, KMT leaders have in recent days demonstrated considerable resolve in neutralizing Hung, running roughshod over procedural niceties, as well as public opinion.
The KMT Central Standing Committee on Wednedsay unanimously passed a resolution to call an extraordinary party congress to deliberate a proposal to replace her.
Although the KMT headquarters' drastic methods prompted criticism, Hung's stubborn and unthinking refusal to confront the matter has left the KMT no choice — "whatever the costs, Hung must go."
KMT Chairman Eric Chu (朱立倫) voiced the discontent of grassroots members when he panned her cross-strait policy as out of touch with mainstream public opinion.
However, Hung brushed Chu off and blithely attributed the public furor over her China policy comments to "flawed communication."
Ultimately, Hung's self-righteous belief in her role as a champion of "truth," and her indifference to the survival of KMT legislative candidates, are the reasons the KMT has "collectively disidentified" with Hung.
Hung's cross-strait stance relies heavily on the ideas of Chang Ya-chung (張亞中), an academic with strong pro-unification views; crucially, Hung's China policy discourse goes above and beyond Ma's.
After Hung heedlessly crossed the Ma government's "China-policy red line," Ma had no choice but to sever his support for Hung.
A pan-blue camp politician once said that if, for the sake of argument, one concedes that the KMT is "pro-China," then in comparison with the KMT, Chang and his ilk are "just red." Left unchecked, the "red tide" from Hung's campaign would crush the KMT as surely as it has crushed Hung.
Translated by staff writer Jonathan Chin
Comments will be moderated. Keep comments relevant to the article. Remarks containing abusive and obscene language, personal attacks of any kind or promotion will be removed and the user banned. Final decision will be at the discretion of the Taipei Times.