Tsai Ing-wen begins 'Taiwan-Japan friendship tour'
Democratic Progressive Party (DPP) presidential candidate Tsai Ing-wen (蔡英文) yesterday arrived in Tokyo on a visit to meet with friends and Taiwanese expatriates.
Upon arrival at Haneda Airport, Tsai was greeted by a group of her supporters, Taiwanese Representative to Japan Shen Ssu-tsun (沈斯淳) and members of the Japanese media.
Her four-day trip, which she has dubbed a "Taiwan-Japan friendship tour," is aimed at meeting friends and visiting Taiwanese expatriate communities ahead of next year's Jan. 16 presidential election, she said in response to questions from Japanese media.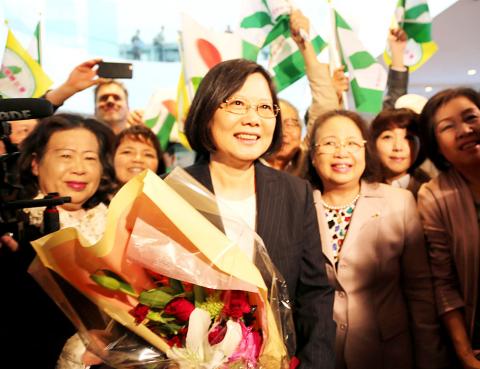 Supporters greet Democratic Progressive Party presidential candidate Tsai Ing-wen, center, at Haneda Airport in Tokyo yesterday.
Photo: CNA
Tsai said she also hopes to meet with people in Japan who are familiar with the nation's efforts to cope with the challenges of globalization and to talk with leaders in the industrial sector about possible cooperation in economic and industrial areas.
Given the opportunity, Tsai said she would also like to exchange ideas with members of Japan's two main political parties and others in the political arena.
Tsai is leading by a wide margin in public opinion polls and is seen in some quarters as poised to become the nation's first female president.
Regarding reports that the Chinese Nationalist Party's (KMT) upper echelon has discussed with its presidential candidate, Hung Hsiu-chu (洪秀柱), growing calls for Hung to drop out of the race due to her low level of support, Tsai said that it would be inappropriate for her to comment on the matter, as it is a KMT internal issue.
However, she added that "what people want to see is a stable political party and a reliable team, and what Taiwanese have seen recently is that the DPP is a stable political party and a reliable team."
Additional reporting by Su Fang-ho
Comments will be moderated. Keep comments relevant to the article. Remarks containing abusive and obscene language, personal attacks of any kind or promotion will be removed and the user banned. Final decision will be at the discretion of the Taipei Times.