Rift grows over Hung replacement
BRICKS AND JADE: Some KMT lawmakers said having Eric Chu as candidate would help attract swing voters, while others said that a change would hurt solidarity
While Chinese Nationalist Party (KMT) lawmakers do not overwhelmingly support the party's plan to replace Hung Hsiu-chu (洪秀柱) as its presidential candidate, the lack of consensus is related more to the damage it would inflict to party solidarity than support for Hung.
As rumors about the KMT's plan to change its presidential candidate begin to have more credence — with party members yesterday at a KMT Central Standing Committee (CSC) meeting proposing an extempore national congress to replace Hung — KMT lawmakers have begun to publicly express their views of Hung and a possible replacement.
KMT Legislator Lu Hsueh-chang (呂學樟), who is also a CSC member, said he pointed out at the meeting that Hung's level of support in polls has been much lower than expected, adding that, because she has been "appealing to deep blue voters," it might be more likely to attract swing voters if KMT Chairman Eric Chu (朱立倫) was representing the party instead.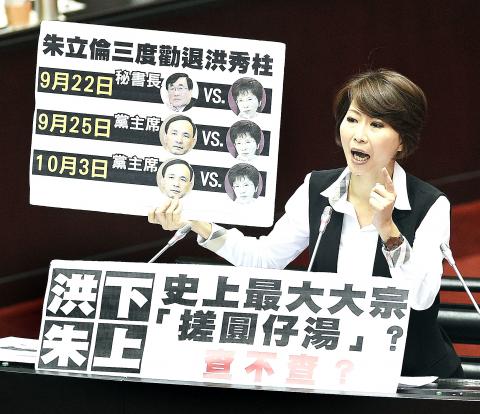 Democratic Progressive Party Legislator Chen Ting-fei speaks at the Legislative Yuan in Taipei yesterday, questioning the legality of attempts by the Chinese Nationalist Party (KMT) to have its presidential candidate, Hung Hsiu-chu, withdraw from the race.
Photo: Chen Chih-chu, Taipei Times
"Hung achieved what she set out to do, which was 'toss out the brick [Hung] to attract the [participation] of jade [Chu],'" KMT Legislator Lo Shu-lei (羅淑蕾) said. "As jade is now available, the brick should withdraw."
While Hung's nomination was indeed procedurally official, "the KMT is teetering on the brink of collapse. Hung should evaluate whether she has the ability to provide momentum to the party's overall campaign," Lo said.
"If not, she should be wise enough to step down," Lo added.
KMT Legislator Kung Wen-chi (孔文吉) criticized the party's plan to change presidential candidate, calling on Chu and KMT leadership to "examine their wrongs" if the party really does plan to replace Hung.
"Why did nobody [else other than Hung] stand up and join the primary in the first place?" Kung said.
Kung said that replacing Hung now would deal a severe blow to the party's solidarity, adding that if harmony is to be achieved, the KMT should amass strong support under the banner of "KMT presidential candidate Hung Hsiu-chu."
KMT Legislator Wu Yu-sheng (吳育昇) said that Chu and Hung should have a thorough discussion "in the presence of other top party heavyweights, such as President Ma Ying-jeou (馬英九) and former chairmen Lien Chan (連戰) and Wu Po-hsiung (吳伯雄)."
Wu Yu-sheng said the point now is not who will represent the party, but rather the right it might cause if Hung's nomination is canceled without her voluntary acceptance.
"A closed-door debate should be held [for the involved parties] to hash it out," he said.
Comments will be moderated. Keep comments relevant to the article. Remarks containing abusive and obscene language, personal attacks of any kind or promotion will be removed and the user banned. Final decision will be at the discretion of the Taipei Times.