Taiwan's absence from UN marked by protests in NYC
Dozens of Taiwanese Americans protested Taiwan's exclusion from the UN this past week as Pope Francis and Chinese President Xi Jinping (習近平) joined other world leaders in addressing the 70th UN General Assembly in New York City.
The Taiwanese American Association of New York (TAANY) held two separate sit-ins — one on Friday last week and one on Monday — at Dag Hammarskjold Plaza near the UN to advocate for religious freedom in China and to protest China's aggression toward Taiwan, TAANY board member Jennifer Liu (劉佩芸) said.
"Today's message was more like 'China — hands off Taiwan,'" Liu said of Monday's protest, which was timed to coincide with Xi's speech to the General Assembly.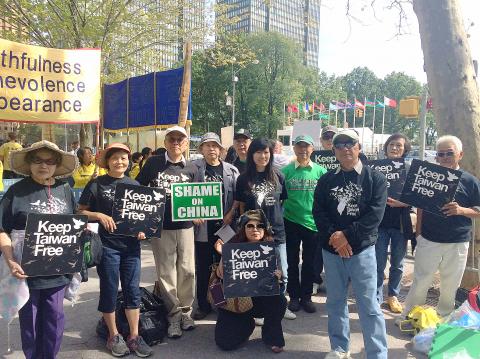 Dressed in black-and-white "Keep Taiwan Free" T-shirts, Taiwanese-Americans on Friday last week rallied in Dag Hammarskjold Plaza in New York City to back demands that Taiwan be admitted to the UN.
Photo: Courtesy of Jennifer Liu
Liu said the rallies attracted between 50 and 80 people from nearby states and from as far away as Maryland and Virginia.
Clad in black-and-white "Keep Taiwan Free" T-shirts, demonstrators called for Taiwan to be included in the UN, she said.
The sit-ins came about two weeks after Taiwanese Americans marched from the plaza to Times Square and West 42nd Street, calling for Taiwan's inclusion in the UN, which gave the Republic of China's seat to the People's Republic of China in 1971.
"It's part of the effort for Taiwan to be an international society," Liu said.
The New York Police Department cordoned off many blocks near the UN with metal barricades, including the plaza. Community affairs officers guarded entry points, allowing only demonstrators in and out.
Liu said participants were firmly united with Taiwanese living in Taiwan in their quest for inclusion in the UN, adding: "We as Taiwanese Americans and overseas Taiwanese stand with the people in Taiwan."
Comments will be moderated. Keep comments relevant to the article. Remarks containing abusive and obscene language, personal attacks of any kind or promotion will be removed and the user banned. Final decision will be at the discretion of the Taipei Times.