King Pu-tsung, Neil Peng enter debate in court
'NO BUSINESS OF MINE' Peng said that he was not interested in King's sexual orientation, but wanted to know why President Ma appointed him to high office
Former National Security Council secretary-general King Pu-tsung (金溥聰) yesterday appeared at the Taiwan High Court to appeal his lawsuit against award-winning screenwriter and author Neil Peng (馮光遠) over the latter's remarks that he has a "special/sexual relationship" (特殊性關係) with President Ma Ying-jeou (馬英九).
King is appealing the Taiwan High Court's ruling earlier this March, which dismissed his charge of criminal libel against Peng.
King is now suing Peng for NT$2 million (US$60,735) for publicly alleging that King climbed the ladders of Taiwanese government due to his "special relationship" with Ma, a phrase that King said meant Peng suspected him of having a "sexual relationship" with Ma.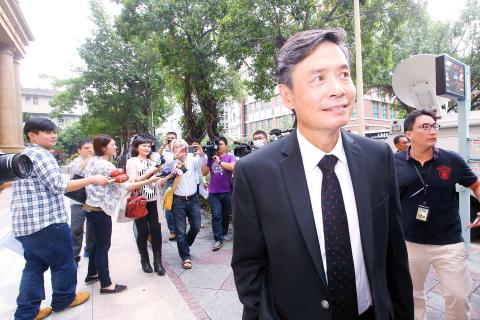 Presidential Office senior adviser King Pu-tsung, foreground, leaves the Taiwan High Court in Taipei yesterday, followed by author Neil Peng, holding a smartphone.
Photo: CNA
Both parties appeared in person at the courthouse for the hearing and engaged in heated arguments over the context and syntax of Peng's phrasing.
King said Peng is claiming in court that the phrase should be read as "special relationship" (特殊性, 關係), despite publicly urging King and Ma to "come out of the closet."
King also accused Peng of "distorting the facts" and demanded that Peng provide "substantive evidence" to prove his assertions. King said that Peng's blog posts have exceeded the limits of public criticism by using "scurrilous language," which King said has caused harm to his reputation and that of his family.
King's lawyer argued that Peng intentionally implied a "sexual relationship" (特殊, 性關係) because Peng had mentioned in reference to King and Ma that "adultery is still a crime" in Taiwan.
Peng said he was attempting to shed light on King's rise to the highest ranks of government and that the media was his source of information, citing, for example, that Taipei City Councilor Tung Chung-yan (童仲彥) had called King "the underground Mayor" during Ma's stint as Taipei mayor.
Peng added that the syntax of the phrase as he intended referred to the use of guangxi (關係, relations) in politics, just as "one might say Minister of Justice Luo Ying-shay (羅瑩雪) has a special relationship with Ma because Luo was Ma's former schoolmate."
Peng criticized King for his position in government without "having once earned a single vote from Taiwanese," saying that King had "dined quite well" thanks to his "special relationship" with Ma, adding that King should "reflect on the massive damage" he had "inflicted on Taiwan's democracy."
"Whatever you are — heterosexual, homosexual or bisexual — is no business of mine or of Taiwanese, but for what reason did Ma appoint you to high office?" Peng said.
The court is scheduled to hand down its ruling on Oct. 6.
Comments will be moderated. Keep comments relevant to the article. Remarks containing abusive and obscene language, personal attacks of any kind or promotion will be removed and the user banned. Final decision will be at the discretion of the Taipei Times.