Exhibition examines Japanese colonial rule in Taiwan
An exhibition titled "Archival Exhibition on Inverting 1895: 120 Years After the War of Yi-We" (鉅變一八九五—乙未之役.一百二 十年檔案特展), which examines both resistance to and acceptance of Japanese colonial rule is currently being hosted by the Academia Sincia in Taipei.
The War of Yi-Wei (乙未之役), referring to the name of the year in the Chinese lunar calendar, is the Chinese term for the five-month war in 1895 between Empire of Japan and anti-Japanese insurgents who rose up after the Republic of Formosa declared independence in response to Japan's annexation of the formerly insular Qing province.
Academia Sinica's Institute of Taiwanese History director Hsieh Kuo-Hsing (謝國興), whose institute jointly organized the exhibition with the Academia Sinica's Digital Center, said the exhibition is named "Inverting 1895" because it focuses on reversing nationalist historiography that focuses solely on resistance.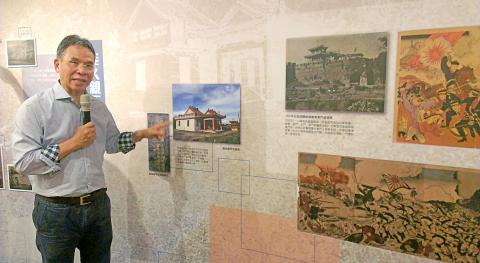 Hsieh Kuo-hsing, Director of Academia Sinica's Institute of Taiwanese History, on Tuesday explains photographs and illustrations at the opening of an exhibition about Japan's annexation of Taiwan in 1895.
Photo: Tang Chia-ling, Taipei Times
The prevalent Han-Chinese nationalist perspective is simplistic and distorts historical fact, he said.
"In order to give full justice to history's complexity, the interpretation of the past must proceed from the original documents and texts, instead of textbooks," Hsieh said.
Most of the island's inhabitants chose to accept Japanese rule in 1895 in order to survive, he said.
"There are multiple strategies to achieving survival, and welcoming Japanese rule was a viable alternative to resistance," Hsieh said, adding that denouncing people for being "obsequious" to Japan or the Qing Dynasty is prejudicial and narrow-minded.
Hsieh said there are other narratives the exhibition aims to subvert. For example, he called the Republic of Formosa's founding "a pretext" that has little to do with Taiwanese independence, but a "stratagem to thrust the Japanese annexation of Taiwan onto the international stage."
Hsieh said the strategy backfired because no nation expressed interest in an intervention, and Formosa Republic officials, including its president Tang Ching-sung (唐景崧), fled.
"The only people who resisted Japan courageously were ordinary citizens. All of the officials had turned tails," he said.
After the First Sino-Japanese War, Japan included in the Treaty of Shimonoseki articles that, in addition to annexing Taiwan, gave its inhabitants two years to decide whether to sell their property and leave or to remain in Taiwan under Japanese rule, Hsieh said. About 6,000 people emigrated, or only about one person in 1,000 in relation to the pre-war population, Hsieh said.
"Historians of Taiwan by consensus consider 'Japanese rule' (日治) to be better as a term of periodization because it reflects the epoch's historical reality and is more neutral, while 'Japanese occupation' (日據) is far less supported by evidence, since Japanese rule was not based on a forceful military occupation," Hsieh said.
After the end of the war, inhabitants of Taiwan received internal passports that identified them as "new subjects" (新臣民), while Japanese citizens were identified as "civilians" (平民), he said.
Comments will be moderated. Keep comments relevant to the article. Remarks containing abusive and obscene language, personal attacks of any kind or promotion will be removed and the user banned. Final decision will be at the discretion of the Taipei Times.