Shih Ming-te fails to meet threshold, ends candidacy
Veteran activist Shih Ming-te (施明德) yesterday announced it would be impossible for him to reach the signature petition threshold necessary to be placed on the ballot as an independent presidential candidate, effectively ending his candidacy.
"After working hard for more than three months, I have to concede that there is no way I can get over the threshold through legitimate means," Shih said. "I poured my heart and soul into achieving the 300,000-signature threshold. I apologize to everyone who was willing to provide me with copies of their national identification cards to support me — I have let you all down."
The Central Election Commission requires that copies of national identification cards be provided for each signatory of a petition drive.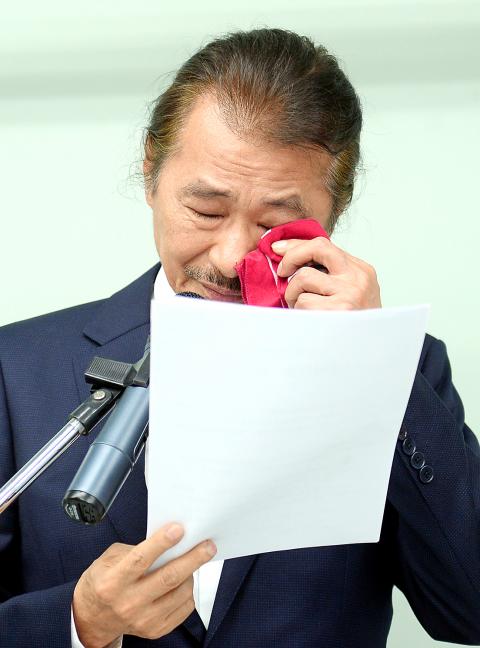 Shih Ming-te wipes his eyes with a handkerchief yesterday as he announced that he would not stand in the presidential race. Shih failed to collect the 300,000 signatures required to stand.
Photo: Lin Cheng-kung, Taipei Times
An emotional Shih choked up as he called on the remaining presidential hopefuls to "take into consideration" his campaign pledges to maintain the cross-strait "status quo," move toward a Cabinet system of government and redistribute wealth, reiterating his belief that reconciliation between the pan-blue and pan-green political camps is the only way for the nation to move forward.
Shih said he wrote his announcement the previous night, with most staffers only learning of his decision yesterday morning.
"The Central Election Commission has many rules that are 'over-the-top' and prevent people who are younger, and lack money and party affiliation, from participating in public affairs," he said, while refusing to comment on what specific reforms he would recommend.
Shih had previously said the presidential ballot signature threshold was unfair to independent candidates, criticizing rules that he said would force him to declare a running mate months before candidates from major parties.
Regulations would have required Shih to declare a running mate as part of the official registration process, which is to begin this week.
Throughout his remarks, he never used the word "withdraw" to describe his decision, saying in response to questions that he did not have the "standing" to "withdraw" because he had not officially registered.
"People would have nitpicked that the signatures I have already gathered are outside the scope of the law," he said, when asked how far he was from reaching the signature petition threshold.
He said that only signatures collected within 45 days of official registration can legally count toward meeting the petition threshold.
Shih had previously been quoted by the media as saying that he had already collected more than 100,000 signatures.
He refused to comment on whether he would support another presidential candidate.
Comments will be moderated. Keep comments relevant to the article. Remarks containing abusive and obscene language, personal attacks of any kind or promotion will be removed and the user banned. Final decision will be at the discretion of the Taipei Times.