Lee backs Tsai Ing-wen's Double Ten Day attendance
Former president Lee Teng-hui (李登輝) yesterday voiced his support for Democratic Progressive Party (DPP) Chairperson Tsai Ing-wen's (蔡英文) decision to attend this year's Double Ten National Day celebrations, but said her Chinese Nationalist Party (KMT) presidential rival, Hung Hsiu-chu (洪秀柱), sounded childish criticizing Tsai's announcement.
Tsai last week said that she would attend the celebrations after Legislative Speaker Wang Jin-pyng (王金平), who serves as the chairperson of the National Day Celebration Organizing Committee, said that he would invite her.
Hung said Tsai's decision to attend was politically motivated since Tsai has not attended the ceremony in the past six years she has served as DPP leader.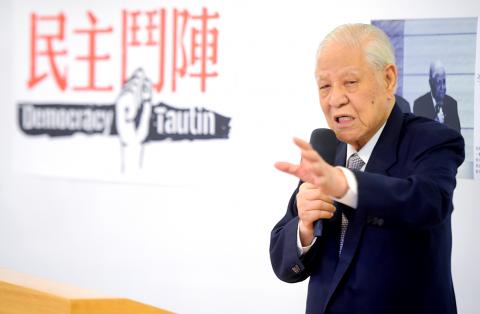 Former president Lee Teng-hui speaks at an event organized by youth activist group Democracy Tautin in Taipei yesterday.
Photo: Wang Min-wei, Taipei Times
Tsai's decision was like "wanting to attend a father's birthday party in order to gain a share of his property," Hung said.
However, Lee said Tsai's decision was "a good thing."
"What is wrong with it?" Lee said after giving an afternoon lecture to the youth activist group Democracy Tautin in Taipei.
"Taiwan is a nation. It is normal to attend a nation's national day celebrations. It is different from wanting to get a share of one's father's property, and it was very childish to say so," Lee said.
Tsai's decision was a positive move that would help enhance social harmony, with different political parties engaging in national celebrations, Lee said.
Comments will be moderated. Keep comments relevant to the article. Remarks containing abusive and obscene language, personal attacks of any kind or promotion will be removed and the user banned. Final decision will be at the discretion of the Taipei Times.