Han Kuang military drills test defenses of Kinmen Island
RUNWAY DRILL: At Chiayi Air Base, units practiced emergency runway repair work to assess their ability to launch fighters after a potential attack on airfields
On the second day of the Han Kuang military exercises yesterday, military officials supervised live-fire drills of artillery and mortar units, and naval maneuvers on Kinmen Island and surrounding waters.
The exercises were conducted by the Ministry of National Defense and the Kinmen Defense Command in the early morning, with the war games postulated on an invasion of Taiwan and outlying islands by the Chinese People's Liberation Army.
Artillery and mortar shells blasted enemy targets set up by the Kinmen Defense Command, displaying military preparedness to fend off opposing forces attacking naval supply vessels heading to Kinmen.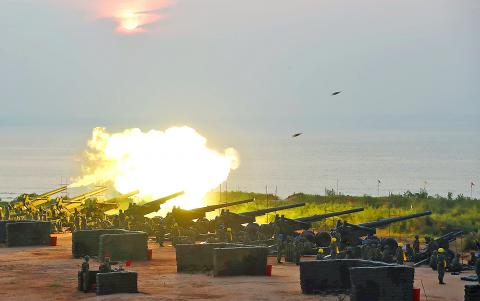 Missiles are launched during the Lien Hsin 104-2 military drill in Kinmen yesterday.
Photo: Wu Cheng-ting, Taipei Times
Kinmen Defense Command Lieutenant General Hao Yii-jy (郝以知) said the exercise was held to test the joint capabilities of the artillery units and demonstrate the military's ability to defend the island, which lies only a few kilometers from Xiamen City in China's Fujian Province.
The weapons included four 8-inch howitzers, four 155mm cannons, eight 105mm howitzers, six 120mm mortars and six 42mm mortars, which fired a total of 208 shells, Hao said.
The drill included setting up communication logistics between army and naval units, firing flares and smoke bombs, cover fire against enemy vessels, along with anti-amphibious landing and counterattack scenarios.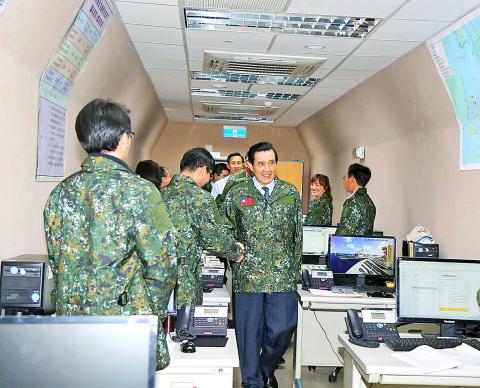 President Ma Ying-jeou, center, leaves a National Security Council meeting at a military command center in Taipei yesterday.
Photo: CNA
The ministry coordinated army and air force units at Chiayi Air Base for rapid runway repair work, to simulate a Chinese bombing raid of the nation's air bases.
The units assessed the damage, deployed repair units of trucks, excavators and other vehicles to do filling and leveling work, demonstrating the nation's ability to deploy fighter jets after damage to the facilities.
Additional reporting by CNA
Comments will be moderated. Keep comments relevant to the article. Remarks containing abusive and obscene language, personal attacks of any kind or promotion will be removed and the user banned. Final decision will be at the discretion of the Taipei Times.