Yunlin eyes constitutional view of ban on coke, coal
The Yunlin County Government yesterday said it would seek a constitutional interpretation on its ban on burning petroleum coke and coal, which was rejected by the Environmental Protection Administration (EPA) on Monday, which said the county government lacked jurisdiction.
To fight air pollution, the county government announced the ban in June to prohibit the burning of petroleum coke from June next year and coal from June 2017.
The EPA on Monday rejected the plans, saying they involved national energy policies and regulations that fall within the jurisdiction of the central government according to the Energy Administration Act (能源管理法) and the Local Government Act (地方制度法).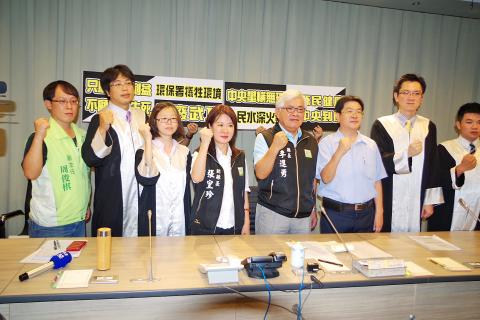 Yunlin County Commissioner Lee Chin-yung, fourth right, gestures with lawyers and academics in Yunlin County yesterday.
Photo: Lin Kuo-hsien, Taipei Times
The county government rejected the EPA's ruling, citing a clause of the Local Government Act that stipulates the invalidation of a bylaw due to contradiction of its superior laws should be declared by the Executive Yuan and other authorities, not the EPA.
Yunlin County Commissioner Lee Chin-yung (李進勇) said the county government would seek a constitutional interpretation from the Judicial Yuan on whether the bans run counter to the acts.
Lee said the county government would also request that the Legislative Yuan rule on the matter, as the Local Government Act stipulates that the Legislative Yuan should interfere where there is a dispute between the central government and a local government over scopes of power.
Lawyer Wang Fu-ching (王服清) said that what is not codified in the Constitution falls within the jurisdiction of local governments, and there is no clause in the Constitution that clearly deals with environmental issues, thereby making the ban a matter of local governance.
The central government has no exclusive legislative right on environmental protection policy, Wang said.
Wang said that the bans did not involve taxation and disciplinary measures, but the EPA used its right of review to veto the bans, which was an act of superimposing the central government's administrative right over the local government's legislative right.
Lawyer Lin Liang-yu (林亮宇) said the central government's energy management is based on principles different from those of local governments' environmental policies, but the central government nevertheless used the Energy Administration Act to reject the Yunlin decision.
Lee said that the central government has forsaken its mandate to protect the environment and the public's health, and has sided with large business groups for the sake of economic growth and at the expense of national health.
Comments will be moderated. Keep comments relevant to the article. Remarks containing abusive and obscene language, personal attacks of any kind or promotion will be removed and the user banned. Final decision will be at the discretion of the Taipei Times.