KMT's economic policies 'outdated': Tsai Ing-wen
ANACHRONISTIC APPROACH: The DPP presidential candidate said the KMT's insistence on the benefits of the free market demonstrates that it is out of touch
Democratic Progressive Party (DPP) presidential candidate Tsai Ing-wen (蔡英文) yesterday criticized the Chinese Nationalist Party's (KMT) economic policies, describing them as products of an "outdated mindset" that belong to the previous century.
"Taiwan's economy is stuck in a rut; it is as if someone has hit the 'pause' button while watching TV," Tsai said during a rally in Kaohsiung. "From a macroeconomic perspective, Taiwan failed to achieve even 1 percent GDP growth in the past quarter and the [average] salary is the same as that of 15 years ago. Oveseas relocation of the nation's industries has also become a major issue; although businesses seem to be making money, the majority of investments, purchases, and employment do not benefit Taiwan anymore, as production facilities have been relocated overseas."
She said the economy faces an even bigger challenge, as any economic growth that occurs is not equitably shared, and the gap between the rich and poor continues to widen.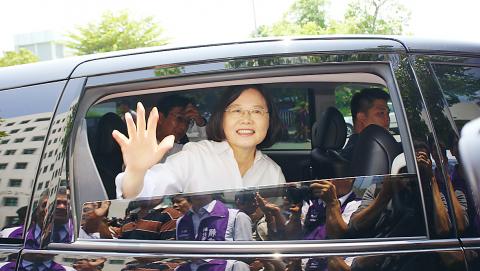 Democratic Progressive Party presidential candidate Tsai Ing-wen waves from her car at a campaign event in Kaohsiung yesterday.
Photo: CNA
The cause of the hiatus in growth and economic injustice is the KMT's outdated mindset when it comes to formulating economic policy, she said.
"The KMT has come up with some policy ideas aimed at lifting the economy, but these proposals would only have worked in the past century, when global demand was strong, profits were high in the manufacturing industry and the export market was strong," Tsai said. "However it is the 21st century now; the world has changed, but the KMT is still sticking to its antiquated ideas."
Tsai said the KMT's anachronistic approach to economic policymaking can be seen in its over-reliance on tax cuts and subsidies and their faith in economic liberalization.
"The fact is that the government does not know what to do, so it does nothing, and leaves everything to the market," Tsai said. "And it blames the DPP for the problem, saying that the recession has been caused by our opposition to the cross-strait service trade agreement and the free economic pilot zones — do you think that is fair?"
The DPP believes that the key to economic growth is upgrading and transforming the industrial sector and a DPP government would implement policies to attract more investment, encourage businesses to innovate and make sure that the distribution of wealth is fair, she said.
Tsai said that if she is elected, she would invest the majority of the national defense budget into developing domestically produced military hardware and technology, which would encourage growth in related high-tech industries, adding that her proposal to develop domestically built submarines would benefit the ship-building industry in Kaohsiung.
Comments will be moderated. Keep comments relevant to the article. Remarks containing abusive and obscene language, personal attacks of any kind or promotion will be removed and the user banned. Final decision will be at the discretion of the Taipei Times.