Nuclear fuel rod plan panned
NEARING CAPACITY: A Green Citizen Action Alliance member said that Taipower's proposal is just a means to extend the service life of nuclear plants
Environmental groups yesterday rallied in front of the legislature in Taipei to protest Taiwan Power Co's (Taipower) multi-billion US dollar project to reprocess highly radioactive nuclear fuel rods overseas, demanding lawmakers axe The company's budget proposal at an ad hoc meeting today.
Taipower requested a budget of NT$11.25 billion (US$342.98 million) to manage 1,200 used fuel rods, or 8 percent of its total used rods, by international companies in June, but the legislature froze the budget for three months from June 11.
The budget proposal is to be reviewed by a special legislative panel today.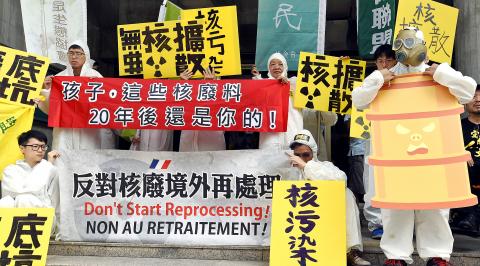 Campaigners from environmental groups, including the Green Citizens' Action Alliance, yesterday wear radiation suits and hold placards as they rally outside the Legislative Yuan in Taipei.
Photo: George Tsorng, Taipei Times
The 1,200 spent rods include 480 rods from the Jinshan Nuclear Power Plant in New Taipei City's Shihmen District (石門) and 720 rods from the Guosheng Nuclear Power Plant in the city's Wanli District (萬里), Taipower said.
Green Citizens' Action Alliance deputy secretary-general Hung Shen-han (洪申翰) said that Taipower's plan to reprocess nuclear waste overseas is not a permanently viable option, as fuel rods — after reusable plutonium and uranium are extracted — would be shipped back to Taiwan 20 years after they are reprocessed, according to Taipower's tender contract.
Taiwan is likely to still be faced with the challenge of finding a dump site to store the nuclear waste by then, Hung said.
Taipower's plan is actually a means to extend the service life of the Jinshan and Guosheng plants, as the spent fuel pools at the plants are nearing capacity, he said.
Citing Atomic Energy Council statistics, Citizen of the Earth office director Tsai Chung-yueh (蔡中岳) said that it would take 10,000 years for high-level radioactive nuclear waste to decay to background levels.
Suggesting that the mostly likely bidder of Taipower's project would be a French company, alliance member Wu Cheng-cheng (吳澄澄) said that France had promulgated a law prohibiting storage of imported nuclear waste in French soil and stipulating that companies must return imported nuclear waste to its nation of origin after processing.
Wu said that there would be about 23,000 spent fuel rods when the nation's three operating nuclear power plants are decommissioned, and it would cost NT$215.78 billion for them to be processed abroad.
Protesters called on the legislature to scrap Taipower's budget proposal and re-examine the nation's energy policy.
However, Taipower said that the plan is a small-scale pilot project to test the feasibility of reprocessing used fuel rods overseas, which might serve as an alternative to existing nuclear waste management methods and a backup plan if the dry-storage facilities at the Jinshan and Guosheng plants are full.
The project would prevent an early decommissioning of the two plants before they reach a 40-year lifespan, which would cause the nation lose 25 million kilowatt-hours of electricity every year, affecting power resources in the nation's north, the company said.
Comments will be moderated. Keep comments relevant to the article. Remarks containing abusive and obscene language, personal attacks of any kind or promotion will be removed and the user banned. Final decision will be at the discretion of the Taipei Times.