FEATURE: 'Rainbow Grandpa' saves his Taichung village with his art
Huang Yung-fu (黃永阜) greets visitors to his village in central Taiwan with paint-stained hands and shoes spattered with flecks of color, a sign of the daily artistic labor that has seen him single-handedly stave off the developers' bulldozers.
At 93 years old, the former soldier still gets up at 3am every day to spend four hours daubing the walls of the small settlement with colorful figures, from birds and animals to celebrity singers and sportsmen.
Known as "Rainbow Grandpa," Huang's artwork has kept the village safe as the surrounding area has been flattened.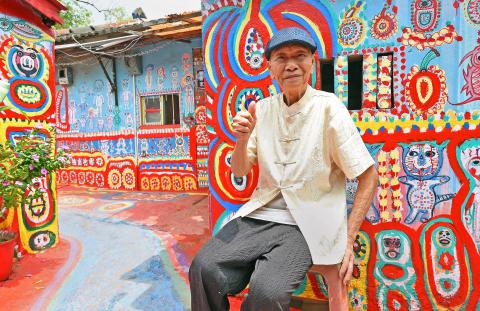 Huang Yung-fu, a 93-year-old veteran, sits next to some of his artwork in the "Rainbow Village" in Taichung's Nantun District on Wednesday last week.
Photo: Sam Yeh, AFP
He walks with a slight limp and rolls up his trouser leg to reveal a bandaged knee — bruised from spending too much time kneeling on the ground to paint, he says.
However, Huang is determined to continue adding to the vibrant murals that decorate the walls and pathways of the veterans' village or juan cun (眷村) as a way to ensure its survival.
"We had a letter five years ago saying the government wanted to knock it down to build something new. They said we could take some money or move to a different house," said Huang, dapper in a navy flat cap and gold Chinese-style high-collared shirt. "But I didn't want to move. This is the only real home I've ever known in Taiwan."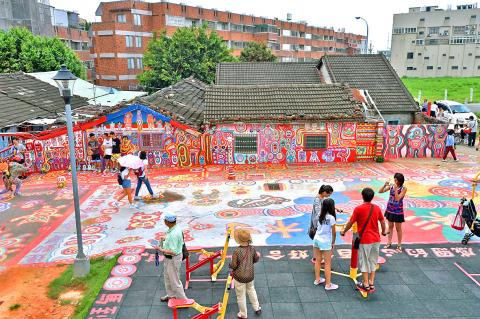 Visitors tour the "Rainbow Village" in Taichung, which has been decorated by 93-year-old artist Huang Yung-fu, on Wednesday last week.
Photo: Sam Yeh, AFP
The settlement in Taichung's Nantun District (南屯) once comprised 1,200 homes for veterans and their families, but as the decades-old accommodation became run-down, developers snapped up the land and residents were offered NT$2 million (US$61,028 at current exchange rates) compensation or new housing.
Huang has lived there for 37 years, staying even after his neighbors abandoned their homes and only 11 houses remained. That is when he decided to paint.
"I was the only person left in the village and I was bored," he said. "My father taught me how to paint when I was five years old, but I hadn't done it since I was a child. "The first thing I painted was a bird inside my house."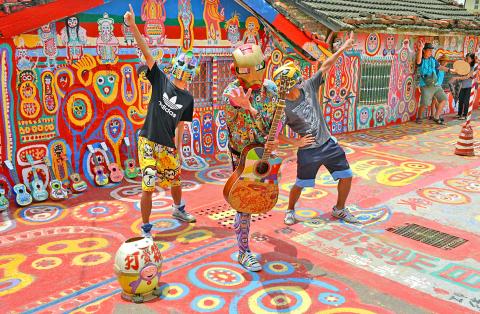 Visitors wearing masks pose for a photograph amid artwork by Huang Yung-fu in the "Rainbow Village" in Taichung on Wednesday last week.
Photo: Sam Yeh, AFP
Huang decorated the interior of his two-bedroom bungalow, then the outer walls and the neighboring homes, which were standing empty. The ever-expanding artwork became a parade of dogs, cats, planes and his favorite celebrities, including kung fu legend Bruce Lee (李小龍).
When local university students discovered Huang's work they launched a campaign to save the village and four years ago the authorities agreed it should be preserved. Now it is one of the area's leading tourist attractions, pulling in more than a million visitors annually, mostly from Asia.
"The government has promised me they will keep this house and this village," Huang said. "I was so happy and thankful."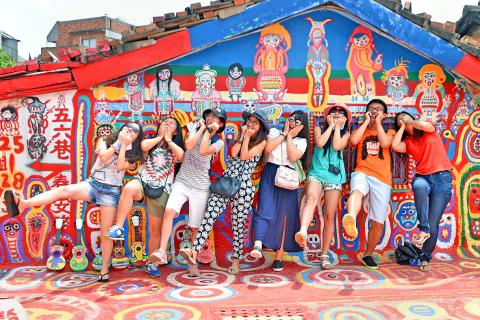 Tourists pose for a photograph amid to artwork by 93-year-old veteran Huang Yung-fu in the "Rainbow Village" in Taichung on Wednesday last week.
Photo: Sam Yeh, AFP
Officials say they are seeking to make the "Rainbow Village" a designated cultural area.
"Tourism is one of the reasons to keep it, but the main reason is that veterans' villages are very special to Taiwan," says Huang Ming-heng (黃名亨), chief secretary of the Taichung Cultural Affairs Bureau. "Unfortunately most of them have been knocked down, so it's important to keep this historical memory."
"I think they are amazing graphics — this place should be preserved," said Hsiao Chi, 19, a student from Taipei.
"The color and the drawings are very special," said Ivy Ng, 30, from Hong Kong, who was visiting Taichung with her family.
Originally from Hong Kong, Huang Yung-fu joined the Nationalist army in 1946 to fight Chinese Communist Party troops in China during the Chinese Civil War.
When the Chinese Nationalist Party (KMT) was defeated in 1949, many troops followed its leader, Chiang Kai-shek (蔣介石), as he fled to Taiwan. They were given temporary housing in hundreds of dedicated military villages across the island — which became permanent over the years.
The Ministry of National Defense says many of the villages have been knocked down because residents wanted better living conditions, but some bemoan the loss of the old communities.
"When they move out, people feel isolated," said Kang Han-ming, a former marine who manages the thriving Rainbow Village business and campaigns to protect the remaining settlements. "They feel they have no roots. That's why a lot of older veterans who move to new buildings get sick."
The ministry has now pledged to preserve the last 13 villages as cultural areas.
Huang Yung-fu says he never tires of the early morning regime that served to save his home — a bungalow crammed with paints, marker pens and memorabilia.
The Rainbow Grandpa sits back on a chair in the shade and watches the crowds.
"I like speaking with them and they tell me the paintings are beautiful. I'll never get lonely with all these visitors," he said.
Comments will be moderated. Keep comments relevant to the article. Remarks containing abusive and obscene language, personal attacks of any kind or promotion will be removed and the user banned. Final decision will be at the discretion of the Taipei Times.